VicRoads considers changes to footpath cycling
15 Dec 2015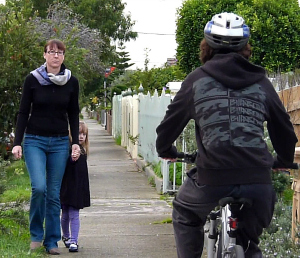 VicRoads has been undertaking a review of Victorian cycling road rules. They are considering two rule changes in particular that are of concern:
Allowing cyclists over 16 years to ride on the footpath when carrying a child under 10 years in a trailer.
Allowing riders 12-17 years to ride on a footpath if they are accompanying a rider under 12 years of age.
Victoria Walks, Council on the Ageing (COTA) Victoria and Vision Australia all oppose these changes.
Bicycle trailers are heavy, wide, cumbersome and can be difficult to manoeuvre and stop, particularly in environments for which they were not designed, such as footpaths. The size of a bicycle trailer can be quite imposing and take up nearly the entire width of the average footpath. It would be difficult, if not impossible, for a rider with a trailer to give way to walkers on a narrow footpath. Inevitably walkers would be forced off the footpath.
The purpose of adults accompanying children riding on footpaths is to supervise and teach them road rules and safe riding. Teenagers lack adult maturity and research indicates they exhibit risk taking behaviour. It is not appropriate for teenagers to be responsible for children's road safety education, particularly when they may not provide good role modelling of safe behaviours. If teenagers were allowed to ride on the footpath when accompanying younger children, enforcing the law would be more complicated and it would be difficult to stop teenagers from cycling on footpaths more generally.
The evidence shows that cycling on footpaths is not safer for cyclists than riding on the road, in fact it suggests it is more dangerous.
Footpaths, by definition, are designed for pedestrians. Footpaths are critical for many seniors, people with a vision impairment or other disability to access shops, services, participate in the community and lead their daily lives. They are our most vulnerable road users and it is paramount that they are safe and feel safe when walking on footpaths. They shouldn't have to contend with large bicycle trailers or risk taking teenagers on the footpath.

Victoria Walks strongly supports initiatives to make cycling safer and more attractive. We need to support cycling with dedicated bike infrastructure and by making it safer to ride on the road, not allowing more bikes on footpaths.
See our background information sheet for more on why Victoria Walks, Council on the Ageing (COTA) Victoria and Vision Australia oppose these changes.
Do you agree? Tell us what you think about the changes here.