New snapshot of exercise and health
26 May 2016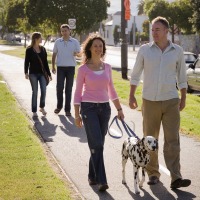 A new summary of recent research and statistics on physical activity confirms we're spending too much time sitting and not enough time on our feet.
VicHealth have produced a brief summary of research and statistics on health and physical activity. The overall picture is not particularly pretty, with exercise seemingly on the wane and time spent sitting on the rise. In 2013/14 only 60% of Australians aged 15 or older participated in sport or physical recreation at least once that year, down from 65% just two years earlier.
The average Australian adult spends 22 hours a week sitting at work or travelling, as well as four hours a day in leisure time sedentary behaviour.
Physical activity drops off as people age. And older adults' TV viewing has increased from an average 3.2 hours per day in 1992 to 5 hours in 2014.
But there is some positive news - walking for transport has increased among Australian adults, from 33% in 1997 to 36% in 2007. Town planning and road management that makes it easier to walk around may well be our best chance of keeping people active.

There are plenty of reasons to encourage more exercise. It's estimated that reducing physical inactivity in Australia by 10% would reduce health sector costs by $96 million a year and generate $162 million in productivity benefits.
The report is written in brief, bullet point style, quickly outlining a range of key findings from Victorian and Australian research published between 2009 and 2014. It provides a great ready reference for quick facts on physical activity, sedentary lifestyles and health.