Safer Road Design hogs the news
19 Oct 2016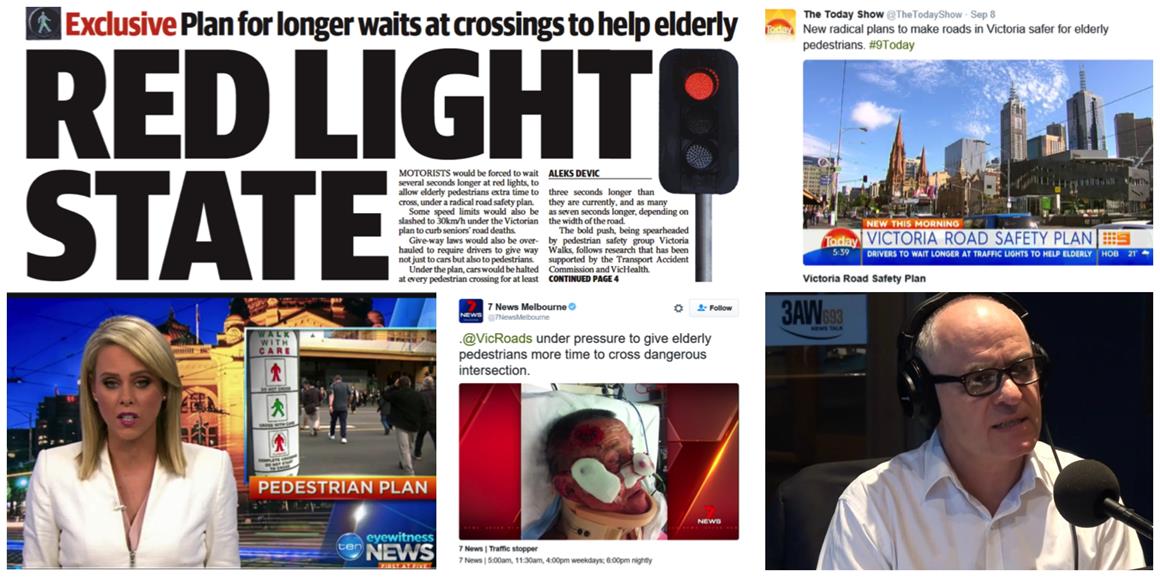 Talk about a splash!
Victoria Walks recently released our report on Safer Road Design for Older Pedestrians and boy, did the media grab it.
On the 8th of September the avalanche of coverage started with the front page story in the Herald Sun. They took an unexpected angle, arguing our proposal to provide more time for older people to cross at traffic signals would mean traffic would be held up for as many as 7 seconds (it's actually a bit more complicated than that, there may be no delay at all). More time at lights was only one of many recommendations in the report, but it grabbed the most attention.
The story took off on radio, with our Executive Officer Ben Rossiter interviewed on prime time 774ABC and 3AW - podcast here. Other radio news coverage included Gold104.3, SEN, Triple M, ABC Central Victoria, Bay FM (Geelong), Fox and related radio stations around the country, and 12 stations in regional Victoria.
The Age ran a substantial article, and there were stories in the Geelong Advertiser and three regional papers.
Then the TV stations got in on the act, with stories on Seven News Vic and eight related stations in Victoria and Southern Cross Darwin; TEN Eyewitness News and six related stations in Victoria and Tasmania; National Nine News and eight regional stations; and WIN News across regional Victoria.
There was plenty of action on social media, like The Project's facebook post attracting 700 likes and 300 comments.
Over the next few days the Herald Sun did a follow up story and Ben was interviewed again on 3AW.
So what would really happen at traffic lights, if people were given a little more time to cross? It is true that at mid-block pedestrian crossings with traffic signals motorists might have to wait a few seconds longer (depending on the signal technology). But at the vast majority of traffic lights, pedestrians walk while vehicles flow in the parallel direction. So some traffic flows would actually get more time, while others get less. Any additional delay to motorists overall would only come from lower traffic flows getting slightly more priority compared to larger traffic flows.
But perhaps it is worth losing a few seconds here and there to save a life?