50 benefits of walking
3 Nov 2016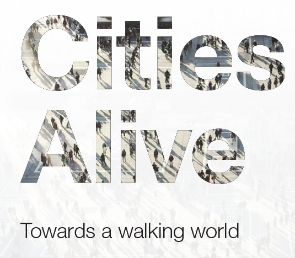 A recent report from global consultancy ARUP provides a great overview of the benefits of walkable communities, with actions to make it happen and examples from around the World.
The report, Cities Alive: Towards a walking world, shines a light on walking, "which is all too often taken for granted." It investigates the role walkability plays in developing more liveable, sustainable, healthy, safe and attractive cities.
Why? ARUP says:
"From 70 years of practice we know that a walkable city is a better city and that the more we walk the better the city in every respect."
"In this report we make the case for policies that encourage walking to be placed at the heart of all decisions about the built environment, as walkable cities are better cities for everyone."
To set the context, the report outlines 50 drivers of change – global trends that are shaping the future of our cities. It then lists 50 benefits of walking – 50 ways that walking and pedestrian oriented design makes for better communities.
There are way too many benefits to list here, but one of the most interesting is the impact of walking on happiness.
"Walking improves our mood. It reduces the risk of stress, anxiety and depression, positively affecting people's mental health and happiness. "
The mental health benefits of walking are even more apparent when compared with commuting by car.
"According to economists from the University of Zurich, who analysed the effects of commuting on wellbeing, a person with a one-hour commute to work has to earn 40% more money to be as satisfied as someone who walks."
The report follows up with 80 brief case studies of projects around the World that promote walking and better cities, and interviews with leading thinkers on urban life.
The report concludes:
"The starting point… will be to create a vision and strategy for walking, recognising it as a transport mode in
its own right, as well as an important part of almost all trips, whether by car, bus, train or bicycle. More walking champions are needed to help make that change."
Victoria Walks is happy to be one of those champions.