Level crossing projects hit and miss for walkers
15 Dec 2016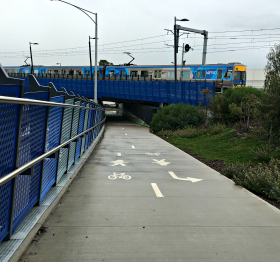 'Skyrail' has got the thumbs up for pedestrians, but improvements are still needed to the state government's level crossing removal program.
A new report released by Victoria Walks examines the pedestrian access implications of plans for elevated rail on the Pakenham-Cranbourne line, and the associated upgrade of Carnegie Station, to draw lessons for this and future rail projects.
"The good news is that elevated rail will allow people to walk between neighbourhoods on either side of the line" said Victoria Walks executive officer, Dr Ben Rossiter, "but building shared walking and cycling paths around stations is very concerning".
"Many seniors rely on walking to get to stations, and we've provided the Government with research showing shared paths don't work for them and puts them off walking" said Dr Rossiter "These designs risk repeating the mistakes of the past".
"If we want people walking we need to separate them from fast riding commuter cyclists" said Dr Rossiter. "It's a multi-billion dollar project, I think we can afford to give walkers and bike riders their own paths."
The Planning for Pedestrian Accessibility at Level Crossings and Railway Stations report was written by Dr David Mepham, Director of consultancy DMC, for Victoria Walks. It supports elevated rail and the level crossing removal program, but expresses three areas of concern:
The provision of shared paths rather than separated walking and cycling paths along the rail corridor creates a potential conflict between walkers and cyclists.
Continuing provision of free car parking at stations perpetuates traffic congestion and makes the station environment less attractive for walking, and misses the opportunity to re-orient towards transit oriented development.
Where grade-separated roads are also shopping strips, there is potential for improved traffic flow to compromise the main street appeal of those streets.
Dr Mepham fears increased traffic flow and speed related to the removal of level crossings may damage adjoining shopping precincts, particularly at stations like Carnegie where 70 per cent of train passengers walk to the station.
"When people access local stations on foot they are bringing life to the street and supporting the local economy," Dr Mepham notes. "The project needs to provide high quality pedestrian crossings and traffic calming to ensure the 'Main Street' environment is not damaged."
Dr Mepham also believes free and unregulated parking at urban stations contributes to congestion, degrades the station place and is a barrier to walking.
"Typically urban stations rely heavily on walk up patrons who also invest in the local economy and animate the place", said Dr Mepham. "Contrast this with the 'investment' in free park and ride which favours a few and tends to compromise access for the majority".
"We should address walking access to stations through planning and supporting infrastructure and investigate paid park and ride options to fund these improvements" said Dr Mepham.
Dr Mepham's report recommends that the government cap station car parking at current levels and undertake cost-benefit analysis to consider whether parking should be reduced. "People need to understand that free parking actually costs a lot to provide".
The research has been reported in the Herald Sun and Ben Rossiter was interviewed on 3AW.