Let's Walk Braybrook official launch
3 Mar 2017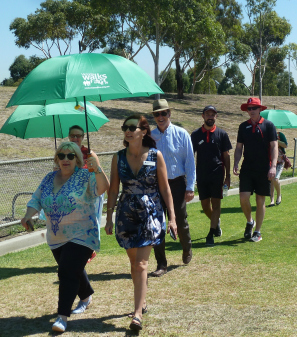 Braybrook residents have been urged to explore their neighbourhood on foot, with the official launch of Let's Walk Braybrook.
Victoria Walks Board Member John Hicks welcomed a mixture of dignitaries, Council staff and local community members to the launch event on the 1st of March at the Braybrook Community Hub.
Mayor Catherine Cumming spoke on behalf of the Maribyrnong City Council, saying Let's Walk Braybrook provided opportunities for residents to celebrate the best of their suburb.
"This series of maps highlights some of Braybrook's treasured sites, art works and busy hot spots," she said.
Local Labour MP Hon. Marsha Thomson spoke of her own enjoyment of walking, in helping to launch the project. Others in attendance included Colleen Hartland, Greens MP for Western Metropolitan and Council CEO Stephen Wall.
There was a positive, celebratory atmosphere at the launch and after the speeches about half of those attending braved the hot, sunny weather to walk around Braybrook Park.
Let's Walk is a new community program being trialled in Braybrook. Victoria Walks hopes to be able to roll out the program to other communities across Victoria in future.
Ben Rossiter, Executive Officer of Victoria Walks said many people report barriers to walking like not knowing where to walk, having no-one to walk with or being concerned about personal safety.
"Over the last nine months, Victoria Walks has been working with Maribyrnong City Council and the Braybrook community to map good quality, interesting neighbourhood walking routes to provide opportunities for women, in particular, to be active and connect with their community.
"We have been thrilled by the interest and support of the Council and many local residents wanting to get more people out and about, walking and talking," said Dr Rossiter.
"Research shows that walking is the post popular recreational activity of Australians, and thanks to Let's Walk there are a lot more people pounding the pavements in Braybrook."
Check out the Let's Walk webpage for more information on the program and local walks.
The Let's Walk Braybrook project is supported by the Victorian Government.