Two walkers die after collisions with bikes
10 May 2017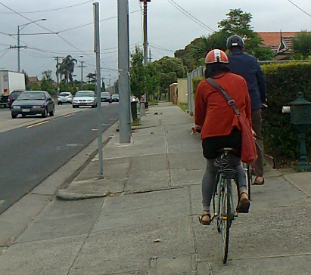 Two deaths in quick succession have highlighted the issue of pedestrians being killed or injured in collisions with bike riders.
On 18 April 2017 an 85 year old man was crossing Jacka Boulevard, which runs along the beachfront in St Kilda, when he was struck by a cyclist travelling in the bike lane. He was taken to hospital, but died later that night.
This follows the death of a 50 year old Glenroy woman after a collision in Parkville on 3 March 2017. It is believed she was crossing Grattan Street when she was struck by a cyclist. The woman was taken to hospital but died nine days later.
These deaths are unusual, but not unprecedented. Victoria Walks is aware of at least two others in inner Melbourne in recent years. In December 2011 an 88 year old woman died after being hit by a cyclist while attempting to board a tram in East Melbourne. And in August 2006 James Gould (77) died after being struck by a cyclist crossing Beach Road, Mentone, at pedestrian lights. There may be another example – a recent article in the Age suggests there was also a fatality involving a pedestrian and a cyclist in North Melbourne in 2013.
Of course, four or five deaths in 11 years is not a lot compared to the total number of pedestrians killed on Victorian roads – averaging about 45 each year. And we are not suggesting that cyclists are necessarily to blame in these crashes. But it does highlight that the potential for walkers to be killed or injured in collisions with cyclists is real, not imagined.
Some cycling advocates argue that conflict between walkers and bike riders is a 'non-issue.' One academic paper suggested "…a pedestrian being injured as a result of an impact with a cyclist is a low risk event and of the order equivalent to being killed in an airline crash" (actually this is not even remotely true, the number of pedestrians hospitalised due to collisions with bikes in Australia is "likely well in excess of 100 people per annum," whereas there are less than 2 commercial air transport fatalities each year on average, and these are mostly on charter flights).
In Victoria, 112 pedestrians were admitted to hospital in the last three years due to a collision with a bike rider.
In a collision between a pedestrian and a cyclist, the pedestrian is more likely to be injured. A Queensland study of 204 crashes found 79 pedestrians were hospitalised, compared with 19 cyclists.
Estimates of the proportion of pedestrian injuries resulting from collisions with cyclists vary from 2.1% to 7.6%. The relatively low proportion probably reflects generally low levels of pedestrian exposure to cyclists – in Melbourne only 2% of transport trips are made by bicycle and the proportion is less than 1% in regional Victoria. Furthermore, the distances travelled on bicycle are less than the distances travelled by motorised vehicles.

Victoria Walks has not undertaken detailed research on the causes or circumstances of crashes between cyclists and pedestrians. Who is to blame in these crashes is not the present concern, it is about making good policy and infrastructure choices to reduce the chance of crashes occurring.
So why is all this important? Because some people deny that there is a problem, and argue that walkers can safely share paths with fast-moving bikes, or that cyclists should be able to ride on the footpath.
Whilst cycling advocates are by no means unanimous on the desirability of cycling on the footpath (and there is evidence to suggest it may be more dangerous for cyclists than riding on the road), Bicycle Network has campaigned for the age limit for cycling on footpaths to be increased to 16. More recently, their CEO has argued that anyone should be allowed to ride on the footpath, no matter how old they are. He also suggests bicycles should no longer be required to have a bell under the Road Rules, but ringing a bell is the best way for a rider to let a walker know they are passing on a shared path. Don't take our word for it – check out this 5 second safety video from Bicycle Network.
Victoria Walks is not comfortable arguing against cycling advocates – we should be working together. But we will not waver in our opposition to an increase in footpath cycling and will continue to advocate for the provision of safer cycling infrastructure, separated from both traffic and walkers. Our submission on the development of a new cycling strategy argues for separated off-road bike paths, protected on-road bike lanes and traffic-calmed local streets managed for bicycle priority.
This article was amended on 12 May 2017.