The future of Victoria Walks
25 May 2017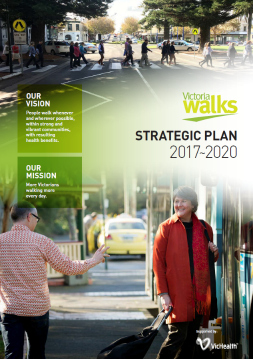 Victoria Walks has adopted a new Strategic Plan to guide our activities through to 2020. The timing of the plan matches the new funding we have received from VicHealth, through to the end of June 2020. Having said that, continuing to find additional sources of income will be critical if we are to achieve our mission of more Victorians walking everyday.
The plan re-affirms our vision, while setting out new goals and strategies for achieving them.
Victoria Walks' Desired Outcomes for 2020 are:
More people choose to walk as a recreational activity.
Public policy and investment agendas prioritise walking and walkability.
Incidental walking is supported through good urban planning and design.
Communities are increasingly mobilised to walk and want walkable neighbourhoods.
Some of the strategies we will use to achieve our goals include:
Develop and deliver community projects to increase walking participation, with a focus on women.
Invest in content, mapping and analytics to extend the reach of our successful Walking Maps.
Collaborate with all levels of government to inform policy that improves walkability outcomes in key planning and infrastructure projects.
Undertake and translate research to build the evidence base and inform walking advocacy.
Proactively engage media to put walkability issues on the public agenda.
Explore opportunities to offer expertise to developers and government agencies on a fee-for-service or sponsorship arrangement.
Check out our Strategic Plan here