Have path, will travel – young people ditching cars for their feet
21 Nov 2017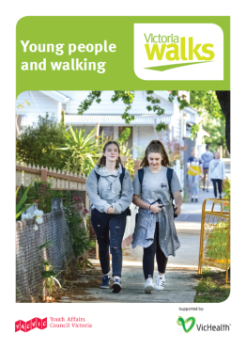 New research from Victoria Walks has revealed a range of insights into young people and their attitudes to walking and liveable communities, including why they are not embracing driving like their parents and grandparents.
The Young People and Walking study was led by Dr Jan Garrard of Deakin University as a collaboration between Victoria Walks and Youth Affairs Council Victoria (YACVic).
The survey of more than 1,000 young Victorians aged 15-20 found:
About two-thirds walk to reach a destination on most days
A compelling 85 per cent of young people said it was important to live in a walking-friendly neighbourhood
Only 57 per cent stated it was important to them to be able to drive anywhere they wanted to go.
Ben Rossiter, Victoria Walks Executive Officer, said "young people have told us they want to live in walkable neighbourhoods that are close to shops, work and public transport".
"Unlike their parents, young people are less concerned about being able to drive everywhere or prioritise living in outer urban areas with lots of space".
The research asked why young people are putting off getting a driver's licence. In 2001, 71 per cent of those aged 18-21 held a licence, but that dropped to 59 per cent in 2014.
"We found young people are delaying getting a licence because of factors like the cost, time and difficulty involved and they are happy to walk and use public transport, if it's convenient. There is an opportunity to continue this trend of reduced driving into later years and reduce traffic on the roads, but only if there is investment in walking and public transport," Dr Rossiter said.
The research also looked at barriers to walking and found poor urban design, a lack of trust in drivers and a widespread culture of street harassment are limiting the mobility of young people, who rely on walking as a primary mode of transport.
Worryingly, only 15 per cent of young women (compared to 54 per cent of young men) feel safe when walking at night, denying them opportunities to participate in public life.
Many young women told of being harassed while walking and concerns for their safety, with comments like:
"I'm a 15 year old girl and I feel terrified walking around by myself and I never do unless I absolutely have to. I always have to have a friend or family member with me but if no one is available I just don't go out and I love walking".
Road safety was also a concern, with only about half the young people surveyed agreeing they can depend on drivers to obey the road rules and give way to pedestrians when required.
Dr Garrard said considering only six per cent of young people aged 15-17 meet the recommended weekly levels of physical activity it was critical we make structural changes to encourage more people to walk.
"We found that young people's attitudes to walking were very positive, with 98 per cent agreeing it was healthy, but suburban environments that are difficult to walk around and with poor public transport leave many young people reliant on others to drive them," Dr Garrard said.
"Young people told us they want to live in communities where they can walk or take public transport to shops, entertainment, work or study", said Leo Fieldgrass, YACVic CEO. "We need to engage young people in planning to ensure our communities are safe, inclusive and liveable".
The research was funded by VicHealth and CEO Jerril Rechter said the research revealed what barriers needed to be addressed to encourage even more young people to ditch their cars and get active.
"This research shows us that young people are clearly concerned about their health and want to be able to walk more as part of their day-to-day lives, but things like safety and a lack of infrastructure can hold them back," Ms Rechter said.
"This adds to what we already know of too many young women experiencing harassment and judgement, which holds them back from getting active. This is unacceptable and as a society we need to change."
Some of the key recommendations from the report include:
Provide substantial investment in walking infrastructure and pedestrian oriented design.
Develop a Walking Strategy for Victoria
Develop public campaigns that encourage men and women to learn about and discuss gender equality and respect.
More information including the report and infographics is available here.