Creating 20-minute neighbourhoods
8 Mar 2018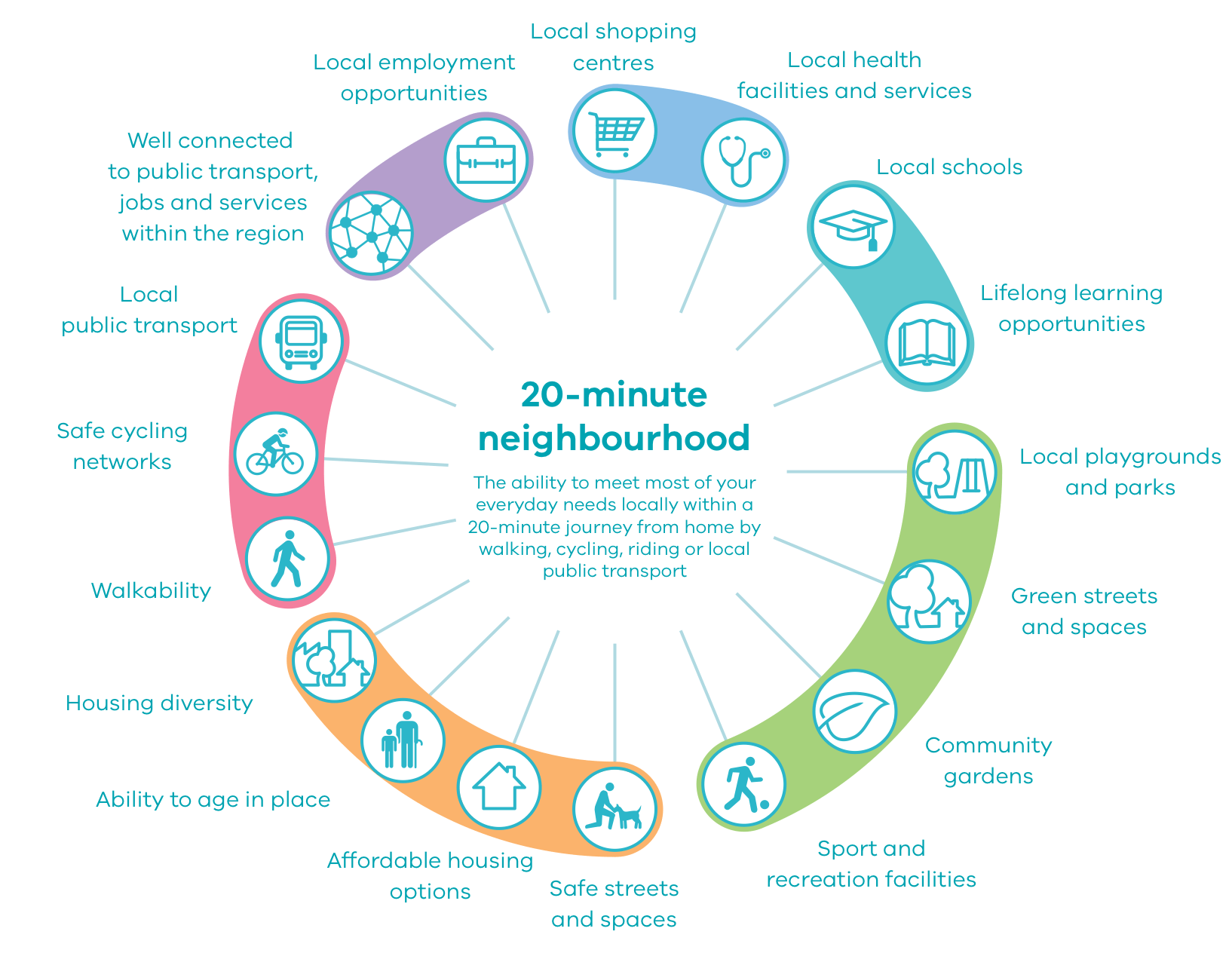 The State Government will fund Victoria Walks to participate in the 20-Minute Neighbourhood pilot project.
We'll be working in partnership with the Department of Environment, Land Water and Planning, three local communities and the Heart Foundation.
The 20-minute neighbourhood is the concept of giving Melbournians the ability to 'live locally', with most of their everyday needs within a 20‑minute walk of their home. Those everyday needs include schools, shops, meeting places, open spaces, cafes, doctors, childcare and access to public transport. This is one of the central concepts of Plan Melbourne, the State Government's key planning strategy.
For the pilot project, Victoria Walks will audit the walkability of streets around selected suburban centres in Brimbank, Maroondah and Moonee Valley. We will then work with the councils to identify street improvements to make it easier for people to walk. Victoria Walks will also help communicate the pedestrian design lessons from the pilot to the local community and eventually other councils.
"The 20-minute neighbourhood concept is all about creating walkable, healthy, cohesive, sustainable communities with strong local economies, while reducing the need to travel and cutting greenhouse gas emissions," says the Minister for Planning, Richard Wynne.
"We want locals spending less time on the road commuting and more doing the things they enjoy with family and friends," he told the Sunday Herald Sun (subscriber only). "Our communities offer so much to so many locals. For many of us, we have everything we need right on our doorstep."
"People tend not to realise how important walking is in their neighbourhood," says Victoria Walks Executive Officer, Dr Ben Rossiter. "We know for example that traders usually under-estimate the proportion of people who walk to their shops, and walking is the main way people get to most train stations."
"We're really looking forward to highlighting the benefits and opportunities of walking in local communities and finding practical ways to make it easier for people," Dr Rossiter said.
The pilot project will inform the framework for delivering the concept effectively, fairly and economically throughout metropolitan Melbourne.