Putting walking on the front foot in the city
20 Aug 2018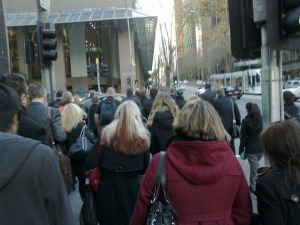 The future of Melbourne's CBD streets has been big news recently and Victoria Walks has been in the thick of the action.
After initial media coverage in April, the issue blew up again in June and we argued for reclaiming our streets in media including Nine News and 3AW.
Victoria Walks has now detailed our ideas for a better CBD in a comprehensive submission to the City of Melbourne, based on the eight discussion papers released by the City. This will inform the development of Melbourne's Transport Strategy Refresh to be released later in 2018.
We have called for a radical transformation around key train stations in the city. Footpaths are overcrowded already and with public transport use set to increase dramatically with Melbourne Metro coming on line, transformative works are needed outside stations like Flinders St, Southern Cross and Flagstaff to accommodate the huge volume of people.
Victoria Walks propose closing the end of Bourke St at Spencer St to improve connectivity between Southern Cross Station and the tram stop; as well as reducing car lanes at Flinders St and Flagstaff Stations and reallocating the space to pedestrians. See Daniel Bowen's video for an illustration of the issues at Flagstaff.
Victoria Walks supported the City of Melbourne's suggestion of applying the model of the Barcelona 'Superblocks' to sections of the Hoddle Grid, with pedestrian priority shared spaces for the little streets within those blocks. We suggested the area bordered by Queen St, Lonsdale St, Flinders St and Exhibition St as an ideal initial block.
In addition to superblocks, Victoria Walks supported a range of City of Melbourne proposals including reduced speed limits across the CBD – which was a hot topic in the media. We also argued that parking of motorbikes on the footpath should be restricted, which was the focus of another interview on 3AW.
Finally, but most importantly, Victoria Walks noted that many of the issues raised in the discussion papers were also contemplated in the City of Melbourne Walking Plan from 2014-2017 – an impressive, forward-thinking Plan. However, those excellent intentions have not yet been followed up with significant action. Victoria Walks strongly urged Council to ensure any future Transport Strategy contains a well-resourced action plan to provide for the transformation of three city blocks each year.