London embraces walking
19 Sep 2018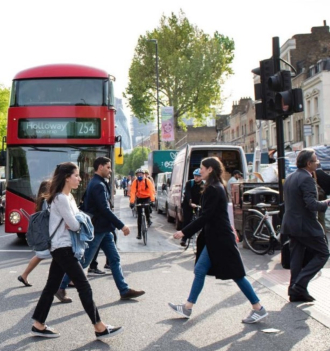 London is getting serious about walking, with an ambitious plan to become the world's most walkable city.
They've appointed a Walking and Cycling Commissioner and allocated a whopping £2.2 billion (just under $4 billion Australian dollars) over five years, to make London streets better for walking, cycling and to improve air quality.
London's new plan aims to overcome barriers to walking with actions including:
Lowering speed limits, widening pedestrian crossings and reducing clutter on footpaths
Doubling the number of schools that champion healthy routes to school, supporting timed road closures, car free days and 20mph (30km/h) speed limits around schools
Rolling out innovative new traffic light technology, including signals that detect pedestrian volumes and increase walk times at busy periods
"Walking is a fantastic way to get around and explore London, and getting more Londoners to walk regularly is essential for the health and future prosperity of our city," says Will Norman, London's Walking and Cycling Commissioner. "By making it easier for Londoners to leave their cars at home and walk instead, it will tackle the air pollution crisis and reduce congestion as London's population continues to grow. It will have a truly transformational impact on our city."
Transport for London's research outlines some interesting facts including:
If every Londoner walked 20 minutes every day, £1.6bn ($2.8bn Australian) could be saved in National Health Service treatment costs
Investment in walking pays off, with a 17% reduction in retail vacancies on streets in London after significant walking projects.
While this is all great news for London, it makes for a depressing contrast with Victoria, where:
We are still waiting for a state walking strategy
An under-resourced Active Transport Victoria is but a shadow of what it was supposed to be (there isn't a single person solely dedicated to walking in any of our transport agencies)
The Safer Cyclists and Pedestrians Fund (SCPF) allocated $100 million over 4 years, but about 70% of that went to cycling projects
With the SCPF fully allocated, there is currently no dedicated state government funding available for pedestrian infrastructure.
In the lead up to the state election, Victoria Walks has outlined 6 asks for strategy and investment to prompt our politicians. Let's hope we can follow London's lead.