Change to Walking a hit with primary school families
29 Nov 2018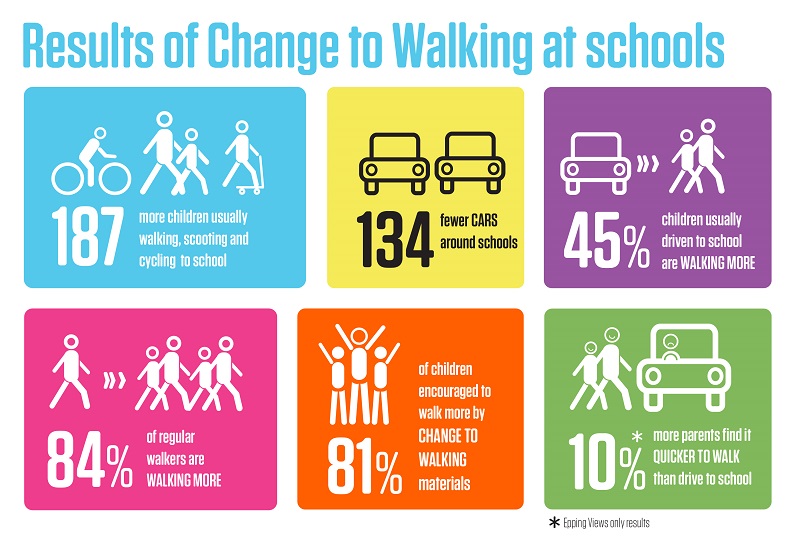 A new program trialled in two Victorian primary schools has resulted in an impressive 34 per cent increase in walking trips to school.
The Change to Walking program was funded by VicHealth and delivered by Victoria Walks and partnering councils at Epping Views Primary School in the City of Whittlesea and Bourchier Street Primary School in the City of Greater Shepparton. The six-week program ran from early May to late June and used "nudges" (small simple prompts and incentives) to encourage students and families to walk, cycle or scoot at least one more day a week.
"This is an amazing result especially given the Change to Walking program commenced at the start of winter when the cold weather was setting in," said Ben Rossiter, Executive Officer of Victoria Walks.
Change to Walking program manager Alice Woodruff said the program was designed to address the concerns of parents at each school, mainly about safety and convenience.
"At Epping Views Primary School parents who felt their children were too young to walk to school dropped from 53 per cent to 37 per cent after Change to Walking, and the percentage of parents who felt driving and parking would be quicker than walking halved, from 20 per cent to 10 per cent."
Of students who were usually driven to school three or more days per week, 45 per cent walked more often while 84 per cent of those who already travelled regularly by foot, bike or scooter did so more often.
VicHealth CEO Jerril Rechter said the results were encouraging and could inform future Walk to School programs. "Only one in five kids aged 5-17 years get the recommended hour of physical activity every day," she said. "Walking to school is an obvious way to boost activity but we know that about 70 per cent of parents who travel with their kids to school do so by car, even those who live within 750 metres of school."
Epping Views Primary School principal Pauline Kubat said the program helped send the message that walking to school was better than getting caught up in the local traffic congestion around the school, which has grown from 30 to 1383 students in a decade.
"We have certainly noticed that Change to Walking encouraged some families to try walking for the first time. Now they have experienced it their children are keen to do it more often, which is great" she said.
Overall the increase in regular walking as a result of the program equates to 134 fewer cars around Epping Views and Bourchier Street primary schools and an extra 187 students walking.
Principal of Shepparton's Bourchier Street Primary, Denise Howley, said it had been wonderful to see children arriving at school with more energy.
"You can see some children who switched to walking are bubblier and many have a greater confidence in themselves as a result of walking to school with family, friends or on their own."
"Families with older children indicated that the program had prompted discussions about independent travel not just to school but to other activities," said Dr Rossiter.
"Parents often cite concerns about traffic or not having enough time as reasons for driving, but this program gave families the confidence and encouragement to try walking and then to experience the benefits such as discovering it was quicker to walk than drive or having stress-free time with their children."
At the start of the Change to Walking program, parents were sent a letter from the school principal asking each family to pledge to walk one day more than they usually did, as well as information about the benefits of walking and a map identifying 15-minute walking routes to school, which had been audited by their council.
Grade 1 and 2 students made the biggest switch to walking and responded particularly well to stickers and classroom encouragement such as wall charts tallying active travel trips. Older students responded well to the fun footpath decals along the walking routes but also to badges that helped show they were all involved together.
"At a time when road congestion and children's physical inactivity are major challenges to the Victorian community, the program results are very encouraging," said Dr Rossiter
The Change to Walking program separately trialled some 'nudges' to get more people walking to train stations at Mitcham, Ringwood and Croydon. "The results suggest we were able to hold the line and keep most people walking as winter set in. It wasn't enough to get more people walking to train stations in the cold weather but regular walkers walked more often," said Dr Rossiter.