City embraces walking
16 May 2019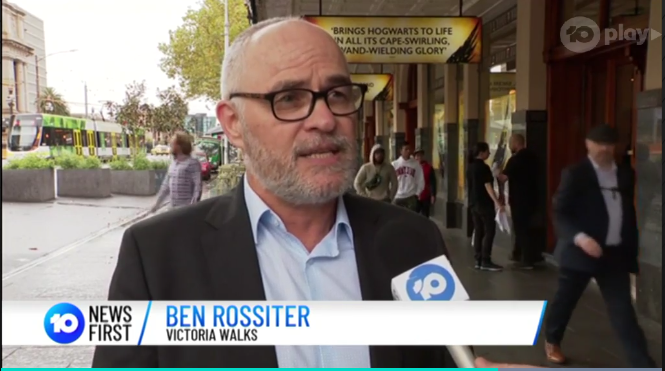 The City Of Melbourne's Draft Transport Strategy puts pedestrians front and centre - and it has not escaped the attention of the media.
Recognising that walking is the only practical way to move the million people in the CBD each day, the Draft Strategy proposes a range of measures long-proposed by Victoria Walks, including:
Re-inventing streets around the railway stations as "international gateways to our city - world-class open public spaces... with seamless interchange between transport modes"
Extending Melbourne's renowned laneway culture to the 'Little Streets,' which will become pedestrian priority spaces
De-cluttering footpaths, including moving motorpbikes to on-street parking
30 km/h speed limits on most streets.
The story was widely reported, with comment from Victoria Walks, on 7 news, 9 News, 10 News, The Age, The Conversation, ABC TV and radio ABC 774 Drive.
Victoria Walks' Executive Officer Ben Rossiter told 7 News the changes were needed to ensure the city is "liveable, prosperous and really works well."
As Lord Mayor Sally Capp pointed out, 89% of travel in the CBD is on foot, but pedestrians only get "24% of the available infrastructure."
The Age was particularly supportive, with both an opinion piece and an editorial, which noted "every hour during the morning peak, about 15,000 pedestrians cross the intersection of Spencer and Collins streets outside Southern Cross Station – five times the number of people in cars – yet cars are given twice the time as pedestrians to pass through the intersection."
The City followed up on release of the draft strategy by announcing their budget, and they put their money where their mouth is, announcing an upgrade of Southbank. This included a new commuter cycling initiative to give fast-moving cyclists an alternative route.
"Fast moving cyclists and walkers don't mix, so this is a solution for everyone," Ben told Fairfax newspapers. "It will ensure Southbank Promenade is a place for people, where they can walk, meander, talk, play and linger." This story was also reported on 7 News and ABC News (no footage).
Meanwhile, The Herald Sun has reported on the pedestrian road toll. As of 16 May, 17 pedestrians have been killed inVictoria this year, compared to 12 at the same stage last year. Almost half have been people over 70.
Many older pedestrians are hit by turning vehicles and Ben Rossiter laments they are "hit by drivers who don't know the road rules or they simply expect them to get out of the way."
Have your say