New research: Walking and transport in Melbourne suburbs
2 Dec 2019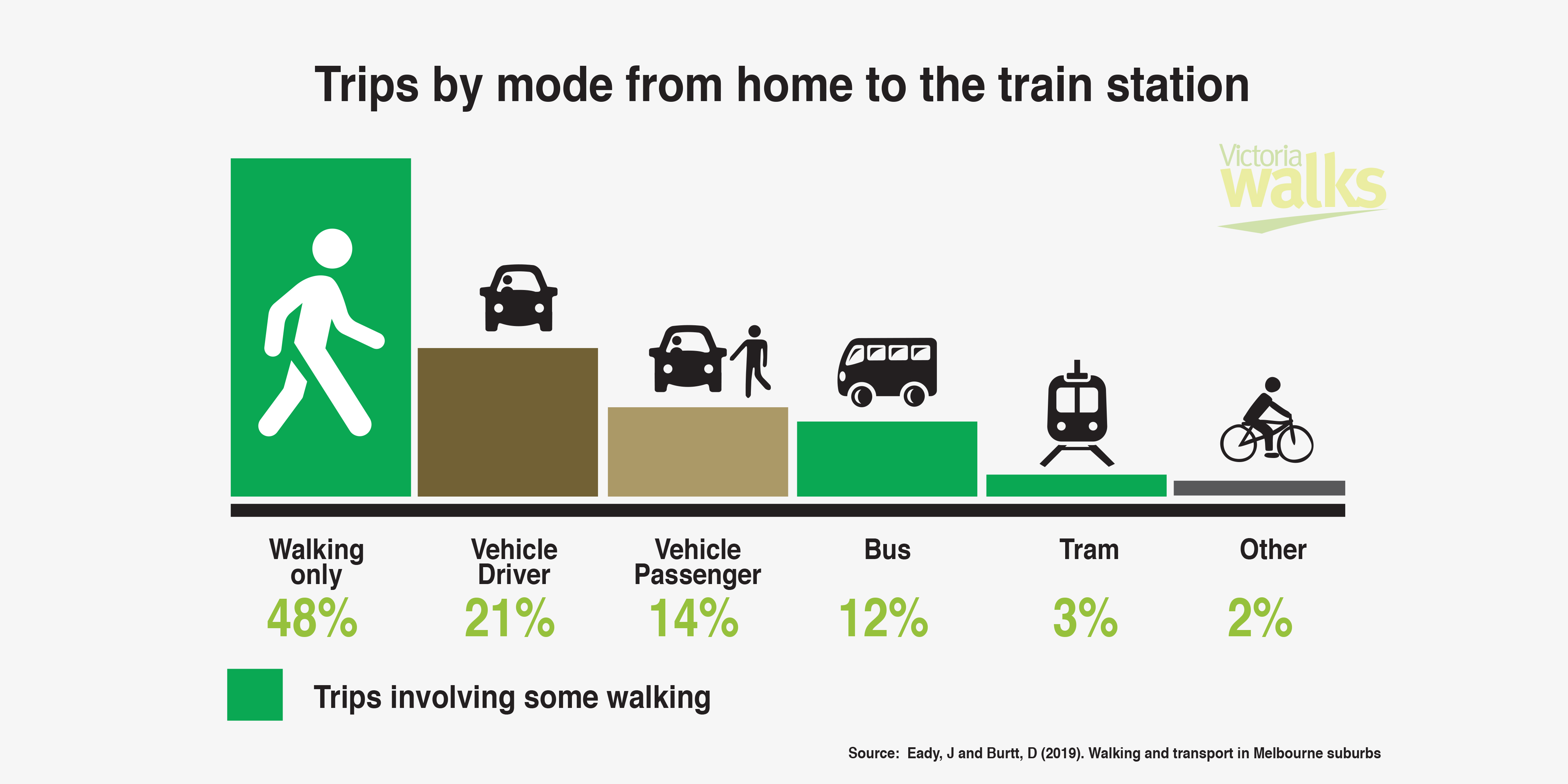 When it comes to how people get around in the suburbs, it seems appearances can deceive. A new report on Melbourne transport has found people walk to suburban shops much more – and drive a lot less – than shopkeepers believe.
Walking and transport in Melbourne suburbs, released today by Victoria Walks with the support of VicHealth, analysed a range of household travel data that has not previously been publicly available.
On Sydney Road in Brunswick and Coburg, traders thought only 14% of customers walked – less than half the actual proportion of 31%. They estimated 61% of customers drove, when it was really only 39%.
"Traders seem to be assuming that their customers travel like they do, but in fact they are much more likely to drive to their shop than their customers are," says Ben Rossiter, Executive Officer of Victoria Walks.
An example is High Street, Northcote, where workers (60%) were almost twice as likely to drive as their customers (33%).
Dr Rossiter says the misconceptions of traders play out in opposition to changes that would actually be good for business. "Even in walkable inner suburbs there is often fierce resistance from retailers to removal of parking to accommodate streetscape improvements."
"Business owners or planners who work on the assumption most people want to drive are actually doing everyone, including themselves, a huge disservice," said Dr Rossiter.
The report also shows that the design of shopping centres is crucial in determining whether people will walk to them or opt to jump in a car instead.
To gain a picture of travel in the middle and outer suburbs, the researchers compared a range of mainstreet style shopping strips against similar-sized car-oriented shopping centres.
"For trips up to 2km, 43% of people walk to retail strips in the middle and outer suburbs, but only 17% walk to shopping malls," said Dr Rossiter. "If you design for cars, you get cars. If you design for walking, you get walking."
In a case of back to the future, the report suggests planning for growth areas needs to move away from building shopping malls to creating more traditional mainstreet shops. Ben Rossiter points to the Laurimar town centre in Doreen as an example of how new centres should be built in outer suburbs.
"Laurimar has compact, walking friendly design that looks and feels like a traditional town centre."
The report also highlights the critical role of walking in the public transport system.
Almost half of people travelling from home walk to train stations (48%) compared to 21% who drive and a further 14% who are vehicle passengers. Cars are almost irrelevant for getting to trams and buses, as 94% of these trips are walked.
Dr Rossiter said the data suggested government spending increased car parking at train stations was misguided.
"We should do more to ensure parking is oriented to those who really need to drive, and focus on getting other people using sustainable transport."
Overall, the report found that almost two-thirds of all transport trips in Melbourne under 1km and one third of those between 1-2 km are walked. But that still leaves a lot of people driving a short distance.
"Alarmingly, Melburnians make nearly half a million car trips each weekday to travel to destinations less than 1km away" Dr Rossiter said, "but we can change this by designing suburbs for walking."