Death a tragic reminder of danger of footpath cycling
18 Jun 2020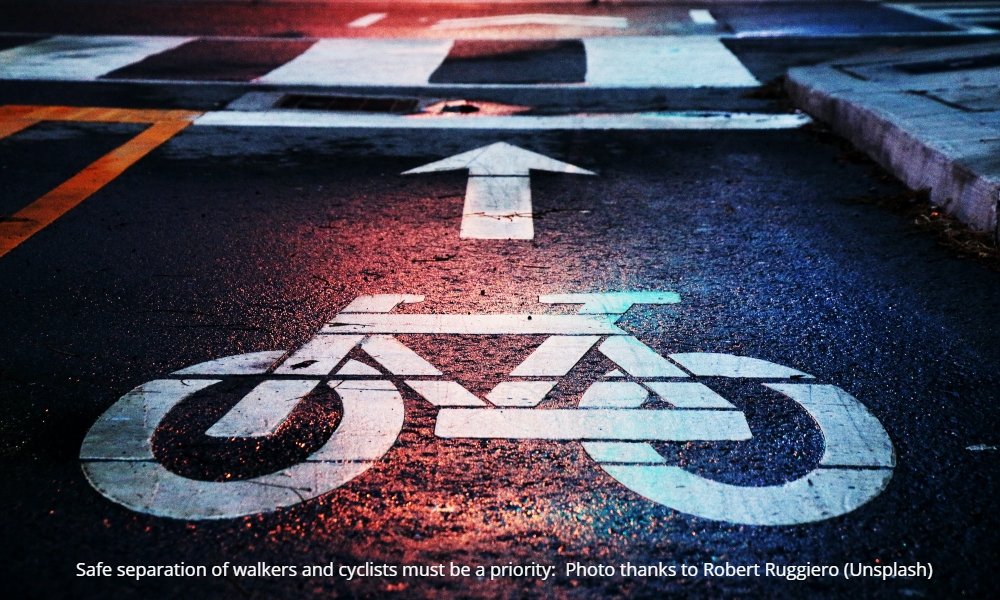 The death of a 93-year-old man struck by a cyclist on a footpath in Queensland this week underscores the risks of riding on footpaths.
According to a report by Queensland Police Charlie Embrey was hit by a bicycle rider travelling in the opposite direction to him on a footpath in Burpengary, a suburb about 35km north of Brisbane, on Monday 15 June.
Mr Embrey, a father of four, was treated by paramedics and transported to Royal Brisbane and Women's Hospital, but died on Tuesday.
The cyclist, a 43-year-old Narangba man, was not physically injured and it appears no charges have been laid, although investigations are continuing and Queensland Police are calling for witnesses. Adult cycling on footpaths is legal in Queensland.
The Courier Mail said people remembered Mr Embrey as "friendly" and a "nice bloke." On his regular 5km morning walks he would stop in and say hello to Matt Bowman at Kratzmann Caravans.
"He would greet me at the same time most mornings while I open work," Mr Bowman said. "He would ask me how I was and about the weather. "I will miss seeing him with his friendly voice and his wave."
Victoria Walks is urging Australia's state and territory governments to reconsider laws allowing teens and adults to cycle on footpaths in the wake of the tragic death, saying the risks posed to pedestrians, particularly the elderly, are too great.

Victoria Walks' executive officer Ben Rossiter said Tuesday's death was avoidable and expressed his condolences for Mr Embrey's family.
Adults are prohibited from riding on footpaths in Australia's most populous states, NSW and Victoria, but other jurisdictions allow it. NSW recently amended its laws to allow teens up to the age of 16 to cycle on footpaths.
Dr Rossiter, who also serves as Vice President of the International Federation of Pedestrians, said a report published in 2018 investigating the safety of footpath cycling around the world found substantial risks to both walkers and cyclists.
"In crashes between walkers and cyclists, the most serious injuries sustained by the pedestrian are usually because of secondary impacts to a person's head after hitting the ground," Dr Rossiter said. The 2018 report included evidence that the average speed of cyclists on footpaths in Sydney and Newcastle was 21km/h, the same speed as cyclists on the roads.
Importantly, the research on footpath cycling also found that riding on footpaths was no safer than cycling on the road.
"Elderly walkers in particular understand the dangers posed to them," said Dr Rossiter. "Surveys have shown as many as 40 per cent of seniors say cyclists on shared walking and cycling paths discourage them from getting out and about."
"As most walker versus bicycle crashes are not reported it is difficult to get an idea of how frequent they are" said Dr Rossiter, "but this week's tragic death in Queensland highlights that the presence of cyclists on footpaths and shared paths can be a real – not only perceived – danger for slower-moving people on foot.
"Laws and transport infrastructure policies should reflect this danger that cyclists can and do pose to walkers," Dr Rossiter said.
He called on politicians at all levels to urgently prioritise funding for separated paths for walking and cycling and to change laws that encourage and enable footpath cycling for adults.
"Allowing footpath cycling because some cyclists don't currently feel safe on roads is like robbing Peter to pay Paul", Dr Rossiter said. "It's a disservice to the ideal that everyone, including seniors and those with disabilities, have a right to remain active and to feel safe moving around their neighbourhoods."
He added urban planners and transport engineers across Australia also had a role to play in designing public spaces that did not put the two groups into conflict.

Dr Rossiter urged governments across Australia to increase the proportion of transport budgets spent on walking and cycling to 20 per cent, as recommended by the United Nations and recently adopted by Ireland.