Budget fizzer
25 Nov 2020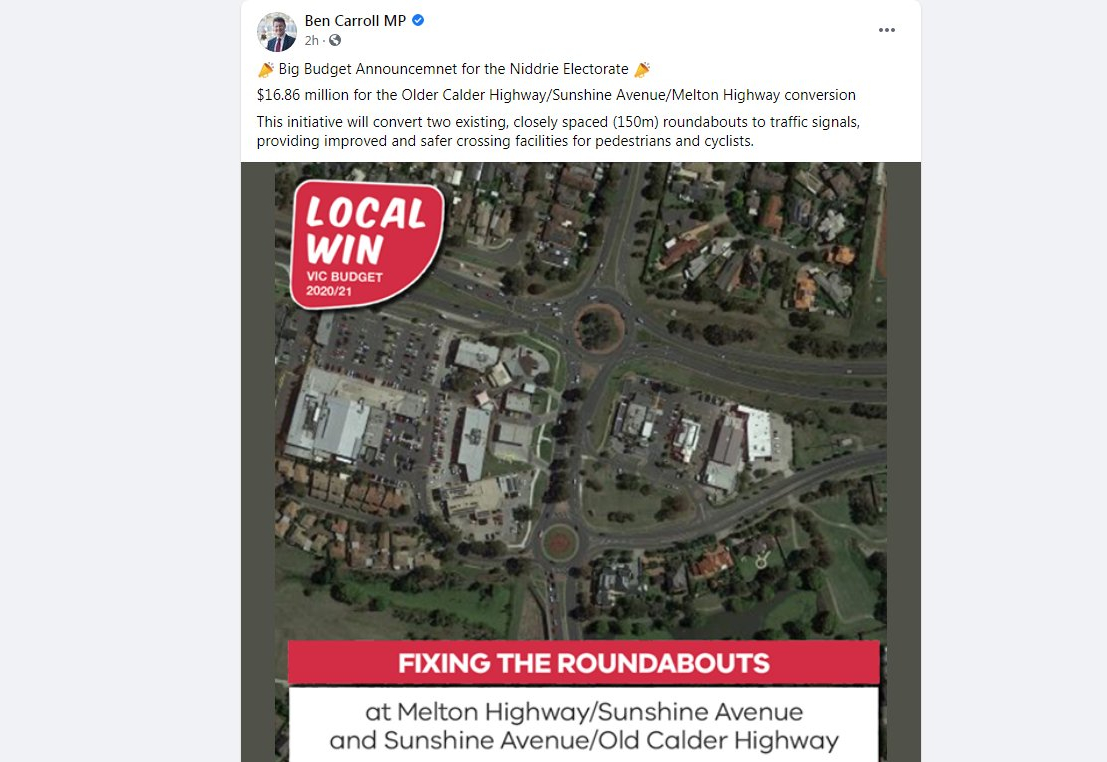 Despite a coronavirus driven spending spree in the Victorian budget, there was not a lot for walkers to get excited about.
In terms of walking for transport, the main initiative is a one-off $63 million for a new School and Community Safety Program with:
Funding to increase road safety around schools
New and enhanced pedestrian crossings
Regional intersection upgrades
Temporary walking and cycling infrastructure
A shared path along the Hurstbridge line.
The budget papers don't provide further detail, so the extent to which this spending will be focused on walking, and whether it includes previously announced spending on bike lanes, is not clear.
That seems to be it for transport investment somewhat focused on walking, while there was big spending on road and rail projects. It was telling that there was only one vague reference to walking in the Budget Outcomes for Transport Briefing.
This was a missed opportunity to capitalise on changed travel behaviour in recent months, with people walking more and living locally. If this had been supported by investment we would have seen healthier people and less congested roads continue into the future.
So much more could be done - for example Victoria Walks' 6 Asks include $100 million to support walking to train stations, $50 million for street trees and $25 million per annum to provide safe streets for children and seniors.
It is possible that some of the spending on roads will be beneficial to pedestrians. For example, the Minister for Roads has pointed out the $17 million replacement of two horrible roundabouts with traffic lights on the old Calder Highway in Taylors Lakes will be better for people walking and riding bikes (see image above).
The news is perhaps a little better for recreational walking. The budget papers recognise the value people have placed on local parks during coronavirus. There is $52 million for parks around Melbourne "investing in community facilities." In the regions, there are some recreational trail upgrades as part of regional tourism projects.
While not specific to walking, the $20 million investment in suburban revitalisation projects to "deliver better public spaces" sounds like a positive change.
Overall, this budget continues the recent trend (under both Labour and Liberal governments) of walking having to fight every year for a few small scraps at the funding table. Walking is easily the most popular form of recreational exercise and one in every six transport trips are made on foot, but that is not translating to dollars. We need a whole of government Walking Strategy to bring some focus and investment.
In transport, we have not had an ongoing funding stream for walking (or cycling) projects since 2010, while billions are spent on roads and trains. In recreation, any walking investment is indirectly provided through parks or tourism funding, while the big dollars are spent on photo-op friendly professional sports.
Which reminds us, congratulations to the Geelong Cats for securing $142 million to redevelop Kardinia Park... again.