Government aims for 25% walking and cycling
31 May 2021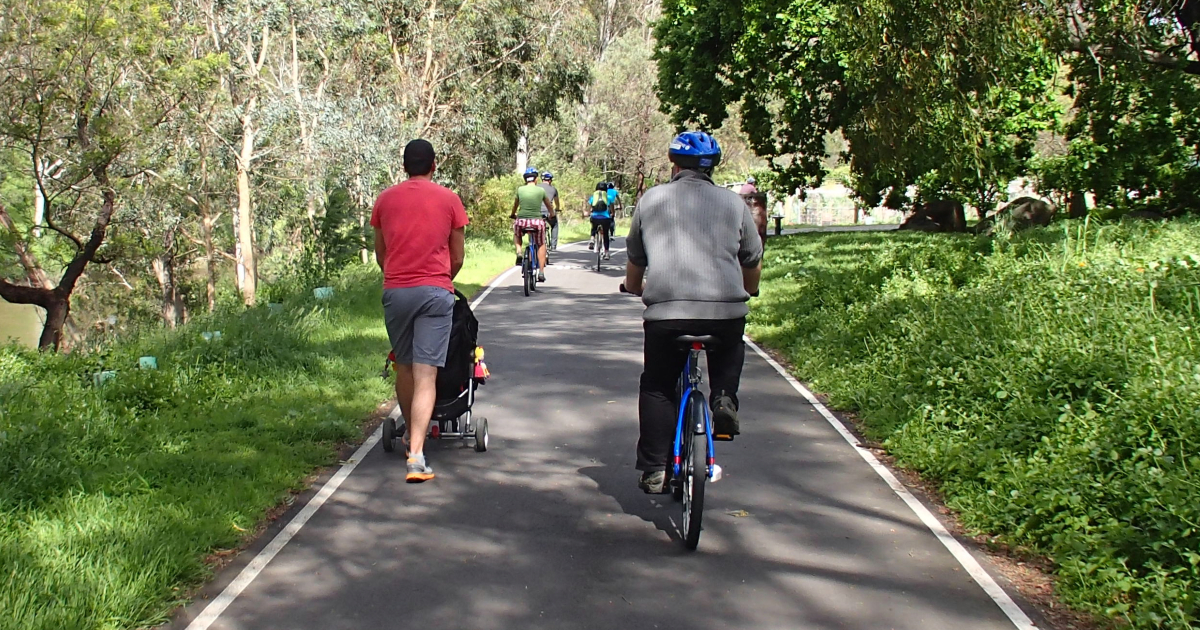 The State Government's new Climate Change Strategy has come with an unexpected but very welcome surprise – a target for 25% of trips to be walking or bike riding by 2030.
With transport the second largest (and fastest growing) source of greenhouse gas emissions, reducing Victorians' reliance on private vehicles makes sense. Walking could play a valuable role particularly in reducing congestion in the inner suburbs and short car trips in the outer suburbs.
More walking and cycling would also have a range of other benefits, especially for health. Victoria Walks first argued for a mode share target for walking in our submission to Plan Melbourne in 2013. To see the Government commit to a target is excellent.
So, is 25% a realistic target?
The proportion of weekday trips undertaken by walking or bike riding was in the range of 17-20% prior to the pandemic. However, if we include weekends it gets harder, with only 15.7% of weekend trips walked and 1.2% ridden in 2018.
There was no clear up or downward trend in walking and riding between 2012 and 2018. The implication is that something big will need to change – to reach 25% of all weekday trips, the current level of walking and cycling would coincidentally need to increase by 25%.
Maybe the pandemic will prove to be a catalyst for change, but if the Government does not take the opportunity to reinforce this with changes to make walking and bike riding easier, that is very unlikely.
Government plans
So how does the government see the target being achieved? The Climate Strategy suggests 100 km of new and improved bike routes and "over 250 kilometres of cycling and walking paths are being built or planned through our major transport infrastructure program." However, these are mostly paths alongside railway lines or freeways, that walkers would need to share with fast moving bikes. They might be good for bike riders but are not attractive for walking.
The Strategy also says, "Development of '20-minute' neighbourhoods under the Plan Melbourne program will give people the ability to meet most of their daily needs within a 20-minute walk from home." But it's not clear how this will be delivered. While the Victorian Planning Authority is conscious of the need to create more walkable suburbs in the growth areas, the state's track record in delivering them is not good.
Funding
State governments have tended to leave walking infrastructure like footpaths, crossings and median strips up to local councils. But councils, with their rates capped by the government, may not be in a position to provide substantial investment. This is especially true for rural and regional councils, with towns that often have few footpaths.
The Municipal Association of Victoria (MAV) has recently called for help. The MAV President, Cr David Clark said Victorian councils urgently need more funding to deliver safer journeys.
"According to Victorian councils we recently surveyed, 90 per cent are planning improved walking infrastructure and 83 per cent are planning improved bike riding infrastructure. Unfortunately, 83 per cent identify funding as a critical barrier that needs the urgent attention of the Victorian and Australian governments," said Cr Clark.
The Government's target is yet to seriously influence its funding decisions. Last week's state budget provided $21 million specific to walking and cycling, "building on last year's investment of $38 million."
The Government's road safety investments may help. The latest action plan says, "we will investigate the safety issues associated with people accessing public transport (buses, trains and trams) and develop a program to address these risks. Through this program we will further support the uptake of active transportation including walking and cycling."
But much bigger moves will be needed if the target of 25% walking and cycling by 2030 is going to be achieved.
Need for a Walking Strategy
While Victoria has a state Cycling Strategy, there is no equivalent for walking. With walking affected by so many aspects of government but consistently falling through the cracks of consideration, a state Walking Strategy is sorely needed.
In addition to directing investment, such as more pedestrian crossings in high demand areas, a Walking Strategy could potentially tackle thorny issues like:
Giving pedestrians higher priority at traffic lights
Better design for walking access in level crossing removal projects
Improving pedestrian access to stations so that car parks are more likely to be left for those who really need them, rather than spending enormous amounts on new parking.
It will be important to recognise the differences between walking and bike riding and address them individually, with separate funding streams. Walking makes up about 90% of 'active travel' trips, appealing to a broad audience when conditions are right. Expanding walking is arguably the low hanging fruit. There will need to be a range of policy changes and major state investments in both walking AND bike riding to reach the target.
Victoria Walks was one of 13 organisations including cycling groups, the Heart Foundation, MAV and RACV that recently produced a Consensus Statement outlining the sort of measures and funding that will be needed to make substantial progress towards the target. "An investment of $500 million in walking and bike riding trips will return a value of $6.5 billion to the Victorian community."
As our Executive Officer Ben Rossiter told The Age "We don't have a ministry of magic to simply wave a wand to reach our targets, it requires significant investment."
In the absence of a Ministry of Magic, we're looking forward to working with the Department of Transport and others to see one in four transport trips on foot or bikes by 2030.