Our opinion in Herald Sun
26 Sep 2022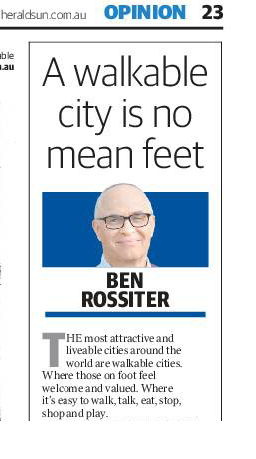 An opinion piece by Victoria Walks Executive Officer Ben Rossiter has been published in the Herald Sun.
As Ben points out, "the most attractive and liveable cities around the world are walkable cities."
"With covid restrictions behind us, it is wonderful seeing activity return to city streets. But yesterday I saw an elderly woman nearly bowled over on a busy footpath, with too many people jostling for space," Ben says.
Victoria Walks therefore welcomes the City of Melbourne's recent announcement that it will spend $6.3 million across ten sites to repair and upgrade footpaths. "Too often governments talk about how they value walking but don't invest accordingly."
We're also pleased to see Victoria Police enforcing e-scooter rules. "E-scooters are new; we need to set the right expectations for how they'll be used going forward," Ben says.
See the full opinion piece as printed in the Herald Sun