Shining a light on the night
5 Oct 2022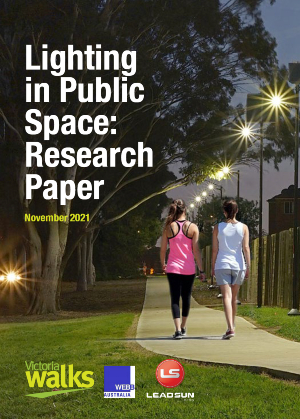 Victoria Walks has released our latest research report, commissioned by Australia's leading solar lighting providers Leadsun, to explore the connection between walking and lighting of public space.
"Studies have found that better street lighting can result in more people walking and that people avoid walking in parks at night if they are not well lit," says Dr Ben Rossiter, Victoria Walks Executive Officer. "Many studies have found that good lighting is related to increased feelings of safety."
"Night life is an important part of public life," says Matt Pollard, Managing Director of Leadsun Australia. "The Australian night-time economy provides more than a million jobs."
Public lighting is an equity issue, as it is particularly important for women and older people.
"A study of OECD countries found half of Australian women feel unsafe walking alone at night, compared to only 20% of men," Dr Rossiter says. "The difference between men and women is greater in Australia than any other OECD country."
Older people are also likely to need a higher standard of lighting. A UK study, for example, found that people aged over 45 need 30% more light than those under that age.
"Chronic eye conditions are very common in Australia and a large proportion of the population have vision impairment, that can affect their capacity to see while walking at night," Dr Rossiter said.
"Women and older people should have the same opportunities as everyone else to work, exercise, have fun and go out at night," Mr Pollard said.
One of the report recommendations is that unless there are compelling reasons to avoid it, recreational paths and open spaces that are well utilised during the day should be lit at night.
"With newer technologies like solar lighting, councils have great options for lighting parks, paths along waterways – all the spaces that are valued by the community and provide important walking connections," Mr Pollard said.
Our report, prepared in conjunction with expert lighting engineers Webb Australia, considers the evidence around the need for appropriate lighting at night in public spaces, with a focus on areas for informal use that are not covered by streetlight. It also considers locations where lighting is most beneficial and how this should be delivered.
Access the report via the Leadsun website