Who's campaigning for walking?
2 Nov 2022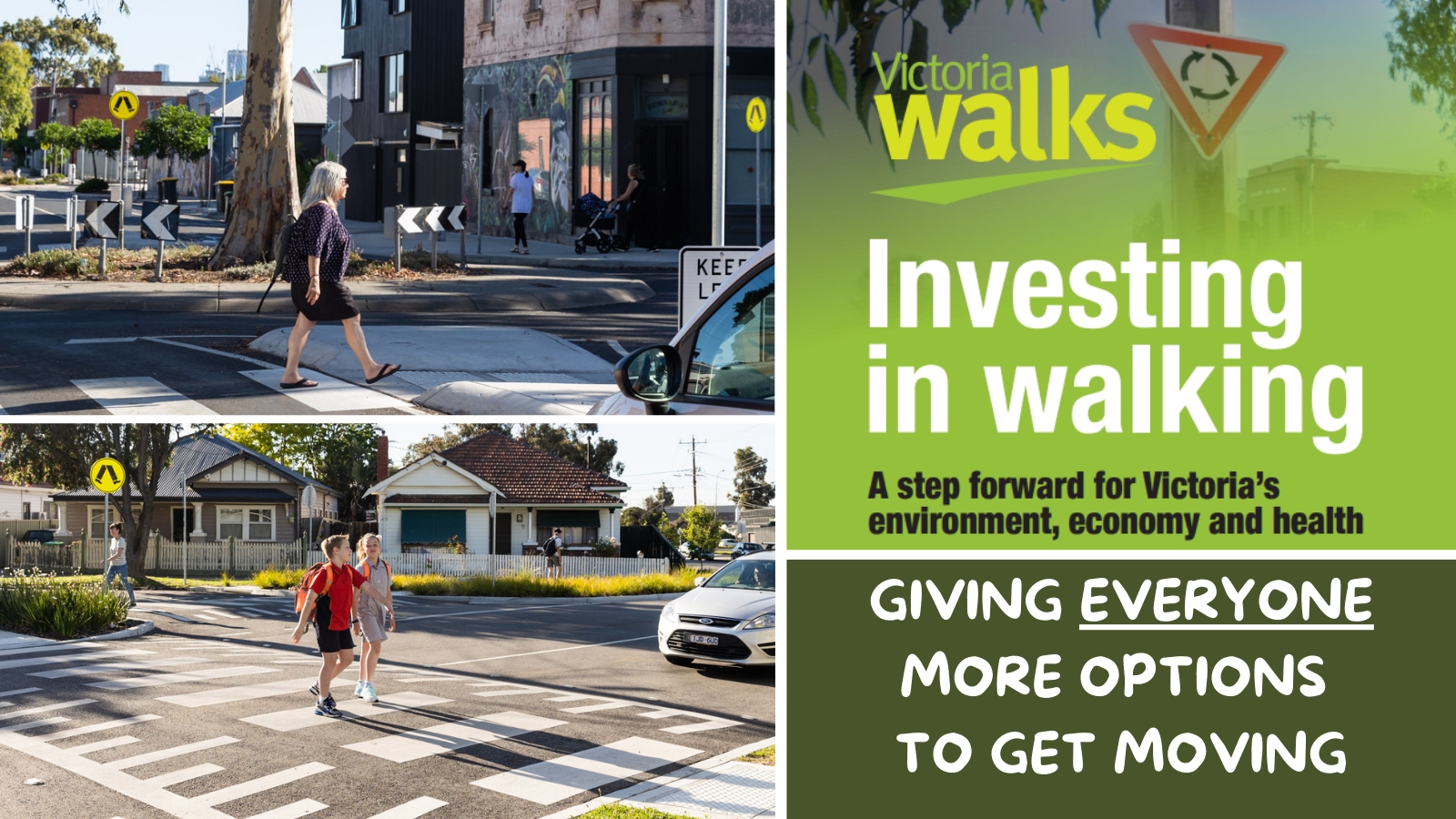 Politicians are often quick to say they support walking, but that doesn't necessarily mean they are prepared to invest in it. So, Victoria Walks has been keeping an eye out for political commitments for walking ahead of the state election.
The Greens have jumped out of the blocks with a high-level commitment to spend $2.5 billion on cycling and walking. While they have not indicated how much would be specifically allocated to walking, this would be a transformational change for active transport, dwarfing any previous investment. However, while there is still a fair way to go in the campaign, we haven't seen a lot of announcements from the two major parties.
Labor do not seem to have made many election pledges for walking so far, apart from new crossings in Frankston and Carrum Downs and electronic variable speed signs to improve safety outside Gembrook Primary School, north of Pakenham. However, this year they have committed to or already funded:
$25.5 million for the Great Ocean Road Coastal Trail
$2.1 million for new facilities on the Bald Hill Summit trail, in Bacchus Marsh
$3 million from the Regional Tourism Investment Fund to extend the existing Rokeby to Neerim trail through to Noojee, north of Warragul
The Liberals have perhaps been a bit more ambitious, promising $30 million for grants for streetscape improvements in local shopping areas, along with $20 million to increase tree canopy coverage across metropolitan Melbourne from around 15 per cent up to 35 per cent by 2050. While those policies aren't specific to walking, they will certainly help.
The Liberals have also pledged support for local projects including:
$20 million for a new Walmer St bridge in Kew, providing better walking and bike riding connections
$2.8 million to revitalise and upgrade facilities at Maroondah Reservoir Park in Healesville
$2 million to replace the Kialla West Primary School crossing on Goulburn Valley Highway near Shepparton with an underpass
$2 million for traffic lights to cross the Princes Highway near the entrance to Wilson Botanic Park in Berwick.
Both parties have pledged to connect the Diamond Creek Trail to the Plenty Trail in St Helena ($3.5 million according to Liberals).
Of course, there may be other commitments we haven't picked up that impact on walking. There have been plenty of announcements on road and intersection upgrades that might make walking more (or less) convenient. No party has yet committed to a walking strategy and action plan that would help ensure these projects actually benefit people on foot (or pledged to fund Victoria Walks). There have also been many pledges to upgrade facilities in parks and also public transport, which is inextricably linked to walking. But in terms of clear walking related projects, even shared walking and cycling trails, it has been fairly slim pickings so far from the major parties.
The media attention on the Greens pledge of $2.5 billion over four years focused on the promise to build hundreds of kilometres of bike 'superhighways,' but the Greens media release says "the funding would also go towards creating more safe pedestrian crossings, upgraded footpaths and walkable neighbourhoods."
There is no detail in the Greens announcement, so it's not clear how they imagine the $2.5 billion would be allocated. But if half of it went to walking-specific upgrades, that would cover the $942 million over four years that Victoria Walks has called for in our investment and election proposals. This includes the $600 million urgently required for local community and council specified shovel-ready 'Safer Streets and Vibrant Places' projects across the state.
The Greens point out "transport is Victoria's biggest growing source of carbon emissions yet the Victorian Government only allocates around 1 per cent of its transport infrastructure budget to bike riding and walking." They rightfully note the need to move towards the goal of active transport funding being "10-20 per cent of transport capital funding, as recommended by the United Nations."
With the election campaign underway, the question is will the Liberal or Labor parties make some significant announcements to get us towards that UN goal?
Amongst the minor parties, we're pleased to see that the Transport Matters party has adopted our proposal to provide TAC coverage (or equivalent insurance) for e-scooter crashes and supports investment in safe walking infrastructure beyond shared paths.
You can find more information about party policy announcements at the Parliamentary Budget Office's Election Commitment Tracker.
If you think we've missed an important announcement for walking, please let us know.
This story was updated to reflect new commitments, 14/11/22