Supporting Victoria Police 'Operation Halo'
18 May 2023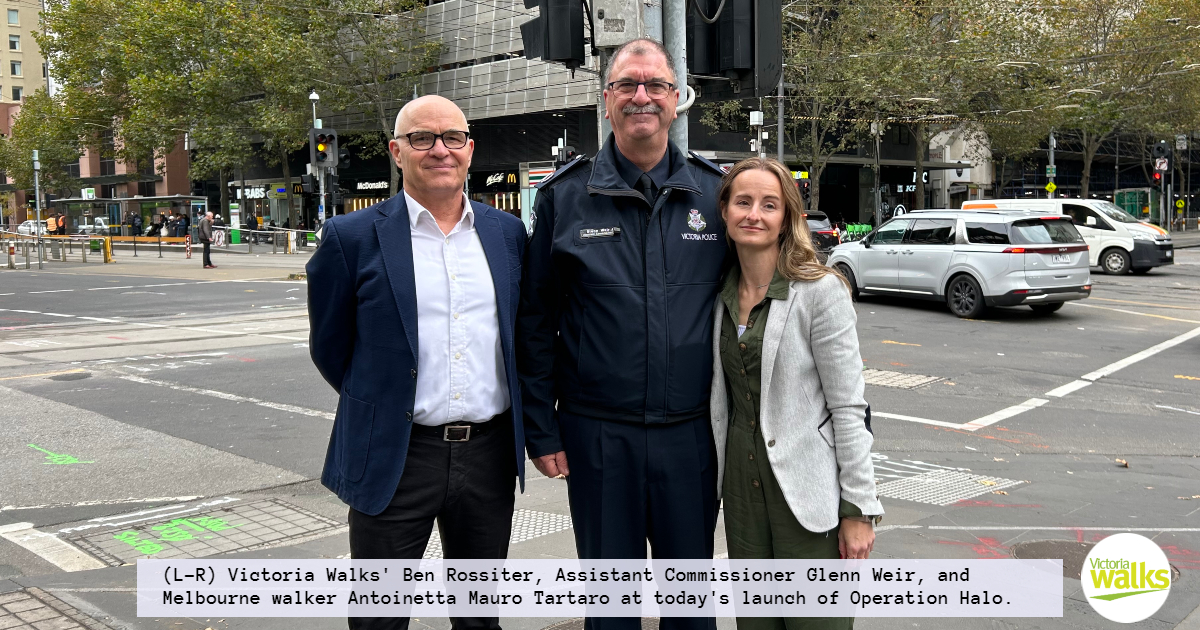 Victoria Walks is throwing its support behind a new Victoria Police operation focused on preventing death and serious injury among vulnerable road users.
Operation Halo, launched today, will initially focus on four council areas – Melbourne, Yarra, Port Phillip and Merri-bek – where there is a high proportion of people walking and cycling to get around.
Bicycle Network Victoria and the Amy Gillett Foundation are also supporting the initiative, which will run until the end of September.
Assistant Commissioner Glenn Weir, Victoria Police Road Policing Command said Halo was about "doing all we can to protect our most vulnerable road users... That's people walking and cycling and that's people on motorbikes and e-scooters."
Victoria Walks Executive Officer Ben Rossiter said today that driver error (which includes speed, distraction and failure to give way at crossings or intersections) is the cause of a majority of crashes involving people who are walking in Victoria.
"Driving in Melbourne can be frustrating," Dr Rossiter said. "But, remember that people walking are trying to get somewhere too."
"Those people crossing a road are your children, your siblings, your friends, your neighbours and your parents – so please look out for them and slow down, especially in areas where there are lots of people walking."
Data released by Victoria Police showed that last year officers attended 1494 crashes across Victoria where people walking were injured, and 1247 where a person riding a bike was injured.
In 2022, another 44 pedestrians died after being struck by drivers in Victoria, and so far 13 more people have been killed while walking in 2023.
Today's story in The Age about Operation Halo featured the experience of Melbourne woman Antoinetta Mauro Tartaro, 44, who has been struck on two separate occasions by people driving.
Ms Mauro Tartaro was first struck by a driver running a red light at a pedestrian crossing when she was a 15-year-old school student. She was struck again in 2019 by a driver who lost control and mounted a footpath in Melbourne's east.
Ms Mauro Tartaro is telling her story to support Operation Halo and to remind drivers to slow down and take care of others. "The vehicle that you are operating can be a weapon on the road and there is a level of responsibility that comes with that," she told The Age.
Read more about Operation Halo at the Victoria Police website.
Further data about pedestrian crashes in Victoria can be found in our 2020 research report.