Smart Urban Futures 2023
29 May 2023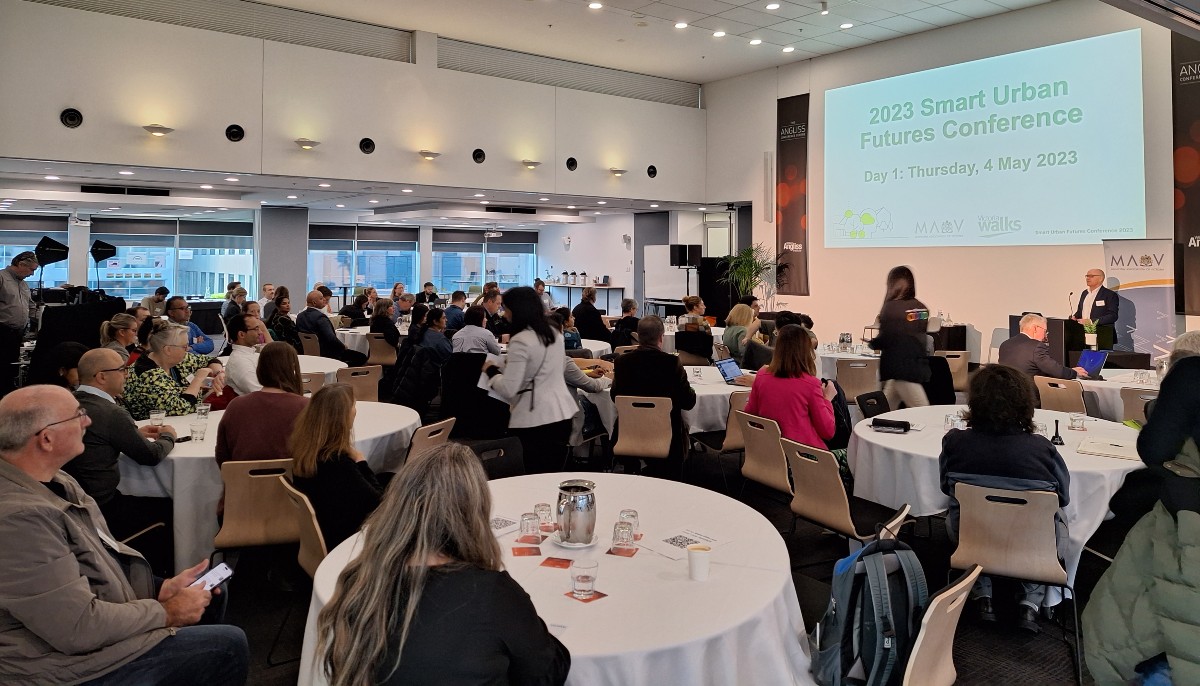 "The speakers made me hopeful for the future of our towns and cities..."
People gathered from around Australia and even from New Zealand and Singapore for the Smart Urban Futures conference in Melbourne earlier this month.
Two key themes to emerge were vehicle speed and the need to connect with people.
Opening speaker international walking expert Rodney Tolley emphasised the crucial but counter-intuitive fact that greater speed does not save time. This is because cities where cars travel fast are sprawling and people live far away from jobs and services, so they end up spending more time travelling than people in cities where traffic speeds are low. He pointed out that the auto industry, or "Big Speed" (like big tobacco), had simply managed to con us into thinking that cars save us time. This is a challenging issue when the primary objective of our transport planning seems to be increasing travel speed at peak hour.
Etienne Krug, head of injury prevention and road safety at WHO in Switzerland (online) gave us the global perspective and the sobering fact that car crashes are the number one killer of children and young people (aged 5 to 29) around the world. But he also gave us good examples of countries and cities that are changing the game and reducing speed.
Jessica Rattray from the New Zealand Transport Agency gave us a more detailed picture of how they have moved to safer speed limits, through dedicated people in the agency insisting that vision zero should be more than a catch-phrase.
Also from New Zealand, Bridget Doran, Principal Researcher at MRCagney discussed the need to change the language of engineering — from systems and networks — to people.
In an online presentation Adetokunbo 'Toks' Omishakin, Secretary of the California State Transportation Agency, outlined how they are re-orienting transport thinking around the people they are trying to serve. The agency recognises that previous transport policy "quite literally put up barriers, divided communities, and amplified racial inequities, particularly in our Black and Brown neighborhoods."
With oversight of eight State Departments, Boards and Commissions with more than 42,000 people and budgets that exceed $25 billion annually, Secretary Omishakin was able to give us a revealing insight into public decision-making at the highest level. In the Q&A after his presentation he explained that aligning good policy with the personal and professional objectives of decision-makers is critical.
The conference explored inclusive communities and effective consultation and engagement. Appropriately, Shay Terrick from Gunaikurnai Land and Waters Aboriginal Corporation, Matt Holland from Parks Victoria and Anne-Marie Pisani from Aspect Studios provided a joint presentation on the Bung Yarnda (Lake Tyers) Camping and Access Strategy. This strategy was developed in a joint management process with authentic community engagement on country, in a model consultation approach recognised by awards from both the Planning Institute and the Institute of Landscape Architects.
One theme that came through their presentation as well as the other sessions on community engagement and working with diverse communities was the importance of time. Good consultation and engagement takes time and should not be rushed.
Professor Jenny Roe, Director of the Center for Design & Health at the University of Virginia, gave a fascinating presentation on urban design that supports our mental health and wellbeing. Her presentation was sponsored by the Department of Health, who are preparing Victoria's first Wellbeing Plan.
People rated the conference very highly - 63% gave it the highest possible satisfaction rating. Some of the feedback from people at the conference included:
"Great conference, thank you for the insights and making me think differently about the topics."
"Really enjoyed the experience to be with like-minded people interested in the evidence and successful implementations of good ideas. Very good for morale!"
"I found it refreshing to hear of successful real-world examples of innovative solutions that have been implemented in local councils around Australia and worldwide. It was really inspiring. Thank you!"
The Smart Urban Futures conference is a partnership between Victoria Walks and MAV, the Municipal Association of Victoria.
We'd like to thank Principal Sponsors the Department of Transport and Planning, along with Program Sponsors:
OmniGrip Direct
Movement and Place Consulting
Compass IOT
Leadsun
Department of Health
You can read more about the speakers and presentations at Smart Urban Futures on the conference website