Positive signs in housing plan
22 Sep 2023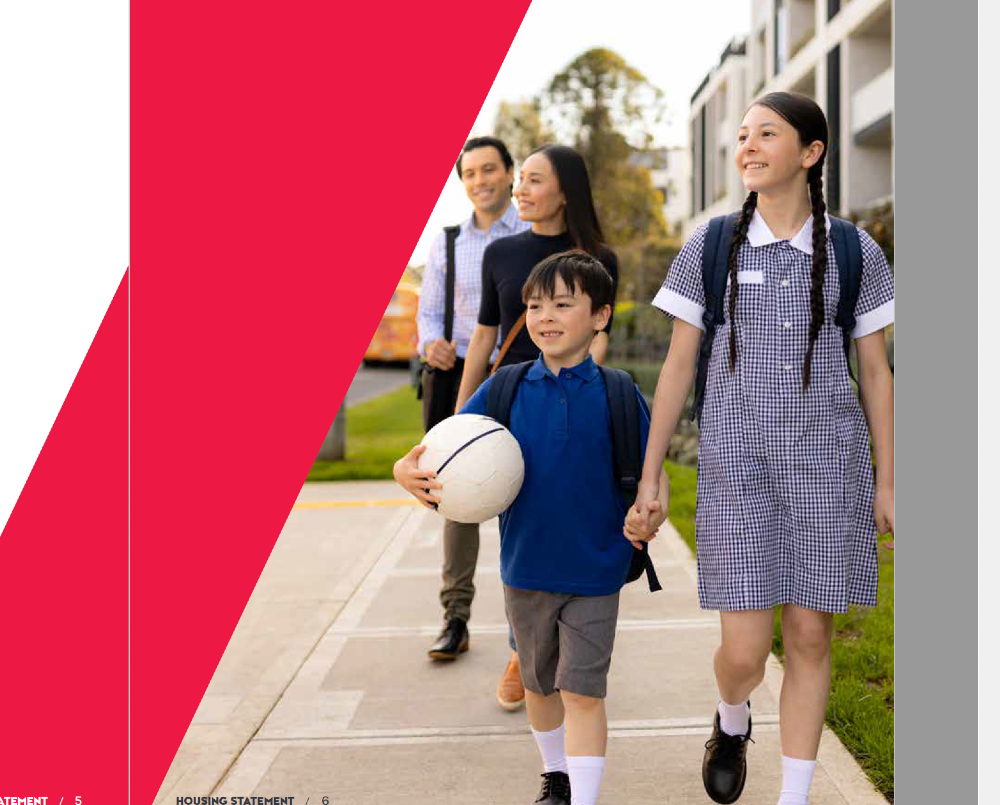 Will this image from the Housing Statement be an accurate picture of its effect?
The type of housing and neighbourhood people live in has a big influence on how much they walk. So Victoria Walks took a strong interest when the Victorian Government released its Housing Statement this week.
It certainly came out with a bang, hitting short stay accommodation like AirBnB with a 7.5% surcharge, while announcing the Government will demolish public housing towers for redevelopment, change planning controls and free up land for development.
Perhaps reflecting its title as a 'statement' rather than a plan or strategy, the document does not provide much detail on some of the changes. And some moves, especially on planning controls, will sensibly be left to evolve through public consultation. But there is enough here to suggest the housing plan is a positive step for walking.
The Statement ramps up efforts to get more new housing in existing suburbs (70%) than growth areas. Growth areas traditionally have a number of problems with car-dominated design, while shops and services, especially public transport, lag well behind the construction of housing. Conversely, established suburbs usually have those things already, making it possible for people to walk to local destinations.
More specifically, this part of the Statement looks promising:
"We'll introduce clear planning controls to deliver an additional 60,000 homes around an initial 10 activity centres across Melbourne: Broadmeadows, Camberwell Junction, Chadstone, Epping, Frankston, Moorabbin, Niddrie (Keilor Road), North Essendon, Preston (High Street) and Ringwood."
Housing around suburban centres will give people the opportunity to live a car-free or car-light lifestyle where they walk or use public transport to most of the places they need to go.
This also looks encouraging:
"We'll bring forward a $400 million package of works along growth corridors…we'll look at priority projects where they're needed most for things like toilets, shelter and lighting upgrades at bus stops and train stations, footpaths and cycling paths."
One big change is it will be easier to build a small second dwelling on a property, with no permit required if it is under 60 square metres. That will probably be good for walking by putting more housing in established suburbs, although it is possible that it will mostly go into the outer suburbs with larger blocks.
Victoria Walks would like to see the new housing facilitated by changes to planning controls targeted to walkable locations, close to shops and other services. And of course we also need reliable funding to make the streets in these areas safer and easier to walk on.
While the full implications of the Housing Statement and much of the detail is yet to emerge, walkable communities could be a winner from the Government's announcement.
Duane Burtt