New Smart Steps Resources for Secondary Schools: Geography
18 Oct 2013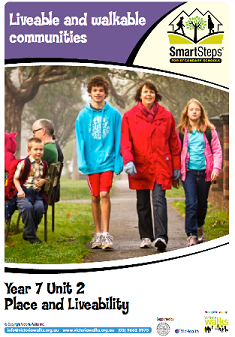 As a walking health promotion charity working to get more Victorians walking every day, Victoria Walks recognises that improving walkability around schools and local neighbourhoods is critical to increasing children's walking levels. School communities can play a key role in bringing this about, but such activities are not part of a school's core business. Teachers have a lot of demands on their time so it is challenging for them to take on new projects that do not align with their existing teaching requirements.
In order to support schools to increase the level of young people's walking, Victoria Walks, in partnership with the Geography Teachers Association of Victoria, developed Smart Steps for Secondary Schools. Smart Steps makes it easy for teachers and schools to address walkability by building it into the Australian Curriculum: Geography.
Smart Steps consists of: Year 7 Unit Connecting places, which is strongly linked to the content descriptors for Year 7, Unit 2, Place and liveability and Year 9 Unit Geographies of Interconnections, which is strongly linked to the content descriptors for year 9 Unit 2, Geographies of Interconnections.
Smart Steps also allows students to develop leadership skills by understanding walkability and making streets and neighbourhoods more walk-friendly (it also links with the Smart Steps for Primary Schools Class Walkability Project).
Click here to access these Smart Steps for Secondary Schools resources.