Let's Walk Braybrook
30 Jan 2017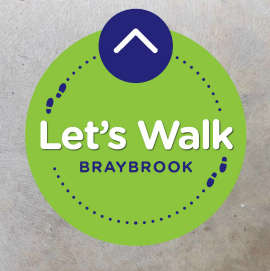 Victoria Walks is working with Maribyrnong City Council to inspire the the people of Braybrook to get out and about in their neighbourhood.
Let's Walk Braybrook encourages the people of the western suburb of Melbourne to discover the walking possibilities in their community and feel inspired to walk every day.
The idea is to get more people out on the street and walking around their neighbourhood, rather than driving to places for active recreation or simply sitting on the couch.
"Populated streets are safer streets," says Ben Rossiter, Victoria Walks Executive Officer. "The concept is to build community connections and security, while keeping people active."
The Maribyrnong City Council's Spring Into Summer Program has been a catalyst for more people walking in Braybrook. During that Program Let's Walk had a consistent group of 16-20 people ranging from 1 to 83 years old – Arthur turned 83 on the last day of the program! Many of the participants discovered parts of Braybrook for the first time, like the Community Gardens, a giant mural, beautiful gardens, sculptures and even a topiary dragon. The walking group was so popular that 82% of people said they would continue walking in Braybrook.
Victoria Walks have now created four easy-to-follow maps of interesting local walks.
On Friday 16 December Victoria Walks spoke to locals and handed out maps of neighbourhood walks. Many people said they wanted to walk more in their local area and loved the idea of Let's Walk Braybrook.
"It has been great to see people embrace the idea of walking in the local area and getting to know new people and places," says Let's Walk Co-ordinator Kaylene McKay.
Maribyrnong Mayor Catherine Cumming said "I think the benefits of this in the way of Braybrook would be, obviously having more people on the street, people feeling safe enough to go to their local parks." After walking from Tottenham Station to Duke Street along the Federation Trail, she said "it shows me that the Braybrook Community actually needs better access as well as to know where these little walks can be."
Check out the Let's Walk webpage for more information on the program and local walks, as well as Soraya's story.
Let's Walk Braybrook is funded by the Victorian Government through Sport and Recreation Victoria.