No-one should be left behind
4 Apr 2018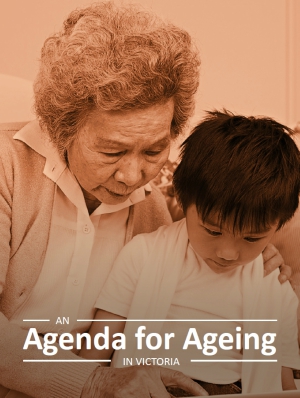 Our population is ageing fast. In twelve years time, there will be more people over 65 years of age than under 15 for the first time in our history. But there is currently no plan for the increased longevity of Victoria's people.
Victoria Walks has joined the Alliance for An Agenda for Ageing – 19 organisations led by COTA Victoria – calling for a comprehensive state-wide action plan across all government departments.
How does Victoria Walks fit in a group of organisations like Seniors Rights Victoria, Dementia Australia and the Victorian Council of Social Service? Well, our research on Seniors and Walking highlighted how important walking is for older people. Walking is the main way older people exercise and becomes increasingly important for people to access day-to-day destinations. People aged 70 or older are 10% of the population, but make up one third of all pedestrian fatalities.
The Alliance has developed An Agenda for Ageing in Victoria to highlight what we need from the Government going forward. As the Agenda points out, older people's independent mobility should not be entirely dependent on their capacity to drive. On transport, it calls for action to:
"Support the development and sustainability of age-friendly and walkable communities with a range of transport choices, including quality public transport, to enable older people to age positively and remain independent.
Ensure safer and age-friendly design for older pedestrians and service users is embraced in the planning of streetscape, road and public transport projects."
Of course, the Agenda demands action on a whole range of other issues. Did you know, for example, that 35% of people aged 65–74 take part in voluntary work? That's the good news, on the other hand, "more people are waiting for aged care packages in our community than are actually receiving them: there are 80,000 packages and over 100,000 on waiting lists. Older people are dying as they wait."
Victoria Walks is proud to be part of an Alliance standing up for the rights of older people to live full, healthy, independent lives.