Politicians: it's time to invest in walking
13 Aug 2018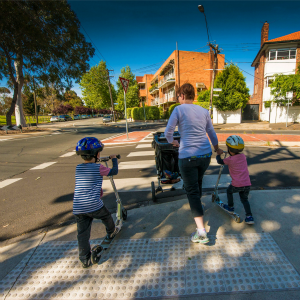 At Victoria Walks we're a little tired of walking and walking safety being taken for granted. Walking is Australia's most popular recreational activity and fundamental to our transport system, with 17 per cent of all daytime trips in metropolitan Melbourne taken on foot.
Making walking a safer option for women, children and seniors is crucial, while making it more attractive to everyone must be a part of Victoria's plan for a liveable future.
Currently no government department takes responsibility for walking, but it's high time Spring Street put it on the agenda.
In the lead up the November State election Victoria Walks has issued it's '6 Asks for Walking' to outline the investment we need if we're serious about walking and walkability.
Develop a plan for walking – a whole-of-government plan needs to be developed to get more Victorians on their feet.
Invest in walking to train stations – spend $100m over 4 years to improve routes within 15 minutes walk of train stations.
Get more women walking by spending $5m over 3 years to expand the Victoria Walks Let's Walk program.
Devote $10m annually in improving and developing 'green' walks – recreational walks where Victorians can escape traffic and urban life.
Establish safe streets for children and seniors, to the tune of $25m per annum.
Invest $50m in street trees, across 25 councils over three years.
Click here for more information.