Highlights of the Smart Urban Futures conference 2021
12 May 2021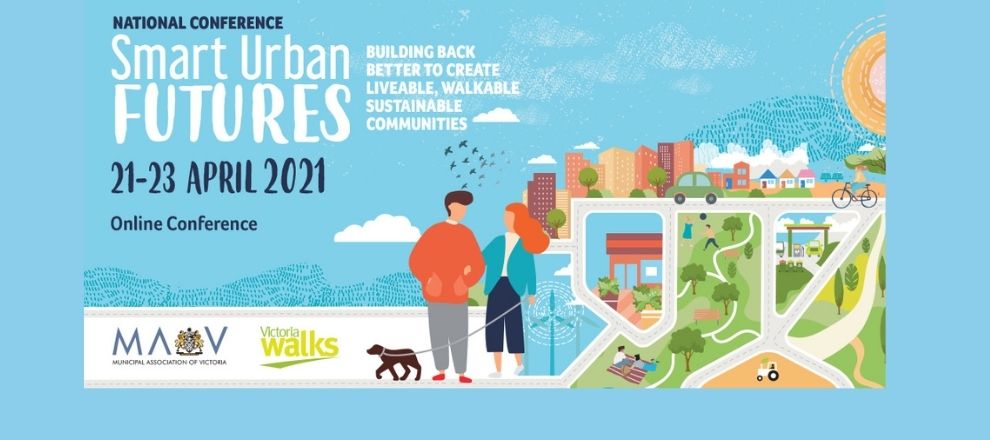 More than 160 people attended the Smart Urban Futures conference on liveable, walkable, sustainable communities, sponsored by the Department of Environment, Land Water and Planning (DELWP).
Due to the ongoing complications of running events during the pandemic, the conference was held online for the first time, with building back better a key focus.
The conference kicked off with Dale Bracewell from the City of Vancouver telling us how they have rapidly achieved their targets to increase walking, bike riding and public transport use. They are now adopting more ambitious targets to deal with the climate crisis.
Rather than being held back by the pandemic, Vancouver has taken the opportunity to quickly change streets to provide for social distancing while encouraging walking and riding.
Liz Johnstone from the Eastern Region Group of Councils pointed out that a technology driven approach won't be quick enough to avert dangerous climate change. "The most climate friendly trip is a walk."
Lucy Saunders, Director of Healthy Streets in the UK, told us how London was rethinking their approach, based on the healthy streets framework. In engaging the community, she said the first question we need to answer for people is "how's this going to make my life better or worse." Thanks go to VicHealth for sponsoring her presentation.
Ludo Campbell-Reid, who wanted to be a doctor when he was growing up, said he had realised "the link between urban design, city design, planning and health could not be more strong. They're inextricably linked and so when you think about the impact you can have as a transport planner, an architect, an urban designer on the health and wellbeing of human beings, in fact, everyone in the room today are city doctors."
In discussing how to build successful suburban centres, Emily Mottram from the Department of Jobs, Transport and Resources pointed out that the things that make places attractive to people are often useful to businesses too. Access to other services, child care, public transport and walkability are all important to workers.
The session on equity in public space emphasised the failure of designing for the average, "fit, white men" and the need to switch to a universal design approach that treats everyone with dignity and respect.
Elise Copeland is a specialist in universal access and design from Auckland, where e-scooters are now common, and she noted that this had been very problematic for the disabled community. She also gave us a useful framework for engaging with stakeholders. "You need to appeal to their heart, their brain... and their wallet."
On road safety, Dr Jason Thompson, Senior Research Fellow at the University of Melbourne reported on a global study that showed it is the cities with high levels of public transport use, mostly in Europe, that perform really well. The implications are clear – we need more public transport and less driving for road safety as well as the more usually considered benefits like reduced traffic congestion.
Christopher Davis and Adil Sundhu from Mildura Council explained their very practical approach, which has seen most residential streets reduced to 40km/h, with cost-effective traffic calming. They noted that "people aren't scared of speed limits like the government thinks they are."
In local case studies, Tammy Smith from DELWP told us how Malop Street in Geelong was being transformed with a linear park approach. "Connection to nature, from a mental health point of view, you need that every day."
Helen Sheedy explained that Warrnambool City Council was empowering the community by taking a back seat, giving people the space to come up with their own ways to enhance the town through 'Beers and Ideas.'
As the second most tourism reliant council in the country, Bass Coast has been hit particularly hard by the pandemic. But CEO Ali Wastie saw changing streets as part of the solution, "we're going to see swathes of car parking removed." She made a plea for state investment in walking, arguing when funding goes to roads, a percentage should go to footpaths.
There were a number of breakout discussions throughout the conference. Some of the themes emerging were:
The importance of data - the clear information Vancouver could provide on walking and cycling was a contrast to the lack of public information here in Victoria.
The limitations on funding, with the state government generally leaving local government to pick up the tab for any improvements to walking and (perhaps to a lesser extent) bike riding.
The idea of "holding firm" was well received by the participants. We need to let any public criticism of changes that are made to increase space for cycling and walking settle down before you look at removing any new infrastructure.
Feedback from the audience was very positive, with most participants rating it 8 or 9 out of 10.

"Good range of speakers, and very well conducted for an online conference."

"Day 2 was my favourite!! Great ideas/knowledge that I can implement in my work!!"

"I loved learning about what was happening to encourage mode shift internationally. It really puts our work in perspective."

Smart Urban Futures is a collaboration between Victoria Walks and the Municipal Association of Victoria (MAV).
You can view presentations from the conference on the MAV website.
Stay tuned for details on Smart Urban Futures 2022!