E-scooter trend doesn't have to cost walkers
23 Feb 2022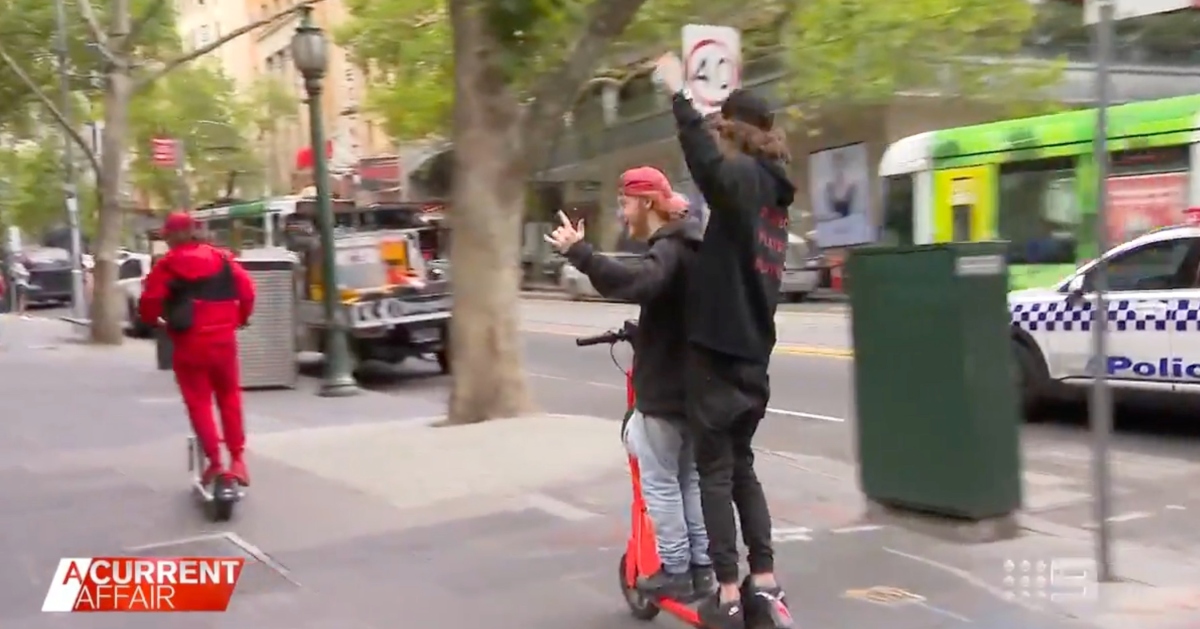 Melbourne's 12-month e-scooter hire trial is off to a bad start.
The trial commenced on 1 February in the Melbourne, Port Phillip and City of Yarra council areas. But despite assurances from the state government that hired scooters would be confined to roads, bikes lanes and shared paths they've been a common sight on footpaths.
Although some operators claimed geofencing technology would keep e-scooters out of no-go areas, it's now clear they're unable to keep them off footpaths. In fact, on our first trip back into Melbourne's CBD we observed e-scooters being ridden more often on footpaths than on the roads. Worse still, they were often ridden in a fast and reckless manner in busy areas such as Bourke Street, and even by school children who are supposedly prohibited from hiring them.
The issues with the trial are compounded by growing numbers of privately owned e-scooters. These are illegal to use in public areas of Victoria and some other states, but the Federal Government has failed to either regulate the sale of e-scooters or require retailers to advise customers they are illegal to use.
With mounting reports of injuries, not just to e-scooter users but to walkers, a solution must be found as soon as possible. Older people, those with disability and young children are particularly vulnerable, both physically but also because they are highly dependent on walking to get places, stay connected and healthy.
For these groups, it's not just actual collisions that are the problem; the fear of being hit by an e-scooter, or falling after being startled, is making footpaths feel unwelcoming, even threatening.
The fear of falling is front of mind for older walkers, and for good reason; breaking a hip can lead to a fast decline. Data shows between 25-40 per cent of hip fracture patients die within one year of their injury.*
Media coverage in Victoria
The e scooter trial has became a hot topic. The Age initially ran a positive story but this was closely followed by a prominent story in the Herald Sun highlighting the extent of illegal riding. Similar stories appeared on 10 News, 9 News, 7 News and ABC TV and 3AW, plus a story about a child being hit on a footpath by a hired e-scooter.
As the reality of dangerous riding sank in, The Age highlighted many of the problems, and followed up with an editorial and more stories about injuries. A few days later 7 News ran an exclusive story on a crash in which a 72-year-old woman was hit on a footpath by two school students on a private e-scooter and apparently admitted to hospital suffering serious injuries.
A Current Affair aired a long story including comment from a trauma surgeon, and aired the concerns of older walkers.
Besides crashes, there are other issues too, such as parked hire scooters cluttering up footpaths and causing trip hazards. Proponents of the trial insist the scooters be parked on footpaths, but this encourages users to break the law and ride on footpaths from the get-go.
Operators can't even keep the devices in the three trial areas; we have seen five in the City of Darebin.
But the biggest issues are of course safety, accessibility and equality. Although the Minister for Road Safety might not have envisaged this when he changed the road rules to allow the e scooter trial in Victoria, walking has become less safe for some of the most vulnerable community members.
Nearly everyone walks, so the accessibility of Victoria's footpaths is everyone's business. Increased mobility options for some should not come at the cost of reduced options for others, especially the walking dependent such as older people, people with disability such as vision impairment, or families with young children. Governments shouldn't allow or tolerate e-scooters on footpaths a moment longer.
For now, the one public agency that is actually attempting to address the problems is Victoria Police, which has consistently made public comment about illegal behaviour associated with the trial. It feels a bit like Victoria Police has been left to carry the can.
So what needs to change?
The Department of Transport and councils administering the hire trial must be forced to clearly articulate to users that they cannot ride on footpaths (and highlight the level of the fines if they do).
The Victorian government should undertake a broader education campaign to direct e-scooter users to permitted roads and shared paths and encourage drivers to accept and respect them on the road.
The Victorian government needs to ensure the Police are directed and resourced to enforce the road rules and keep e-scooters off footpaths.
The Australian Government needs to seriously lift its game, as it's allowing the importation of e-scooters capable of speeds up to 100km/h, which are illegal on any street or road in the country.

Of course cars and trucks remain the key threat to the safety of people walking and Victoria Walks will continue to fight for safer roads. But as e-scooters emerge, we can set appropriate expectations from the beginning to keep everyone safe and moving.

* Data source (hip fractures and mortality) at page 9 of our Fall related injuries report.