New research – bus stops out of reach
22 Nov 2021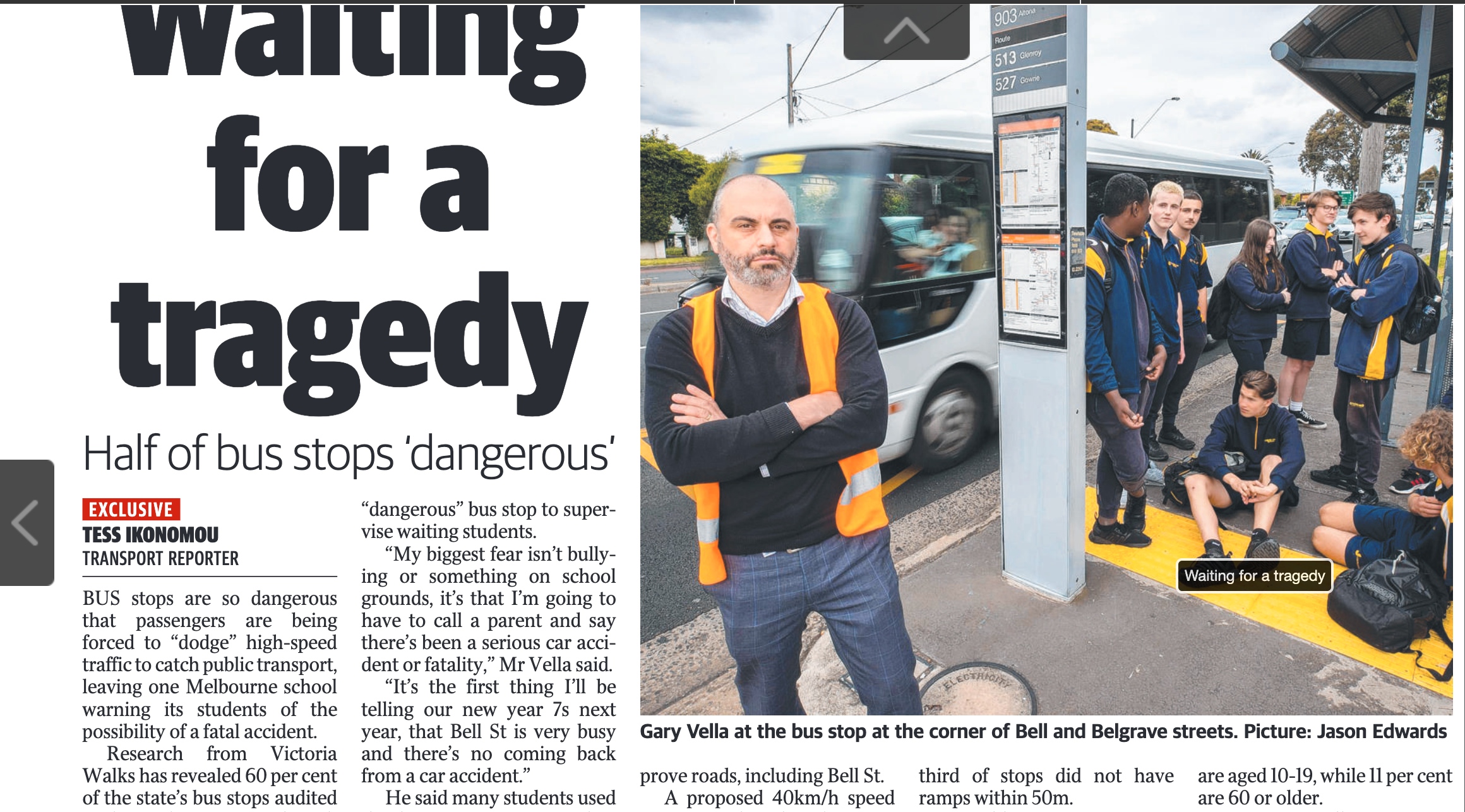 New research from Victoria Walks has found people – including many secondary school students – are being left to dodge traffic on high-speed roads in order to get to bus stops.
The report Getting to the Bus Stop looked at walking access to bus stops in Victoria and the accessibility, safety and amenity of the immediate area. It included a survey of 436 Victorian bus users and audits of 70 bus stops.
The study found that a majority of bus stops are located on higher speed roads.
"Crossing high-speed roads to get to bus stops is a major challenge for bus users" said Ben Rossiter, Executive Officer, Victoria Walks. "Our audits found 60% of bus stops were on 60-80km/h roads and 95 per cent of these had no crossing at the stop".
"The government is improving the bus network with more services and cleaner buses, but they also need ensure people can get to a bus stop safely and conveniently," said Dr Rossiter.
"Too many stops have inadequate access, or missing lighting, shelter, shade, seating or footpath connections, making the walk to a bus stop unsafe and unattractive."
"If the Government really wants more people catching buses, then they must ensure people can actually get to a bus stop."
"In Victoria, officials attempt to maintain and upgrade 36,000 stops on a budget of about $3 million per year. That's a paltry $83 per stop, which doesn't leave much for providing crossings and footpath connections."
Two in five audited stops (41%) were located on roads where a person would have to cross at least four lanes of traffic and sometimes also parking lanes. Where there are traffic lights they are often in an inconvenient location, take too long to change or have a very short green walk time.
The study found one third of bus users are aged between 10-19 years and 11 per cent are aged over 60.
"Young people catching a bus to school shouldn't have to dart between traffic to get to a stop like they are in a game of Crossy Road" said Dr Rossiter.
Public Transport Users Association president Tony Morton said great public transport should work as an extension of walking, with "the freedom to walk out your front door and get to your destination with nothing more than a Myki card".
"But right now, that walk from home to the local bus stop is often just the first of many barriers we put in the way of people using public transport," Mr Morton said.
The research found many bus stops cannot be safely reached by people with disability and older people. More than one third (36%) of the audited bus stops did not have ramp access within 50 metres.
"Kerb ramps are such a basic need," Dr Rossiter said. "They allow people using walkers, wheelchairs or prams and those who are a bit unsteady on their feet to get from the road up onto a footpath and then to the bus stop."
The bus stop access audits found 11 per cent were not connected to a footpath and another 6 per cent had a footpath in one direction only.
"Everyone, regardless of ability, should be able to get to the bus safely and comfortably, but sadly that is not the case."
Getting to the Bus Stop provides recommendations such as:
Include pedestrian crossings in the scope of new and upgraded bus stops.
Provide signalised pedestrian crossings at bus stops or reduce the speed limit on multi-lane roads with a speed limit of 60 km/h or higher and service frequency greater than 30 minutes during the day.
Provide kerb ramps for people with wheelchairs, mobility scooters or prams at all stops
The Victorian Government should create a fund for retrofitting pedestrian crossings and kerb ramps at bus stops.
Provide funding to address 'missing link' connections to existing footpaths within 150 metres of bus stops.
Make traffic lights more responsive (reduce delays) for walkers and safer (sufficiently long crossing times) on bus routes.
Media coverage
The Herald Sun (paywall) outlined the findings of the report and interviewed Coburg High School Assistant Principal Gary Vella. His students have to cross Bell Street - a major traffic route - to reach the bus stop. "My biggest fear isn't bullying or something on school grounds, it's that I'm going to have to call a parent and say there's been a serious accident or fatality,' said Mr Vella.
Talking to ABC Radio Melbourne (starts 1:47:03) Dr Rossiter emphasised the importance of bus access as an equity issue. "One of the key things is who's using buses and over a third are young people under the age of 19 getting to education or low paid casual jobs."
Speaking to Neil Mitchell on 3AW, Dr Rossiter pointed out that buses were an important part of the transport system, with 21% of public transport trips. He then asked, "how many more people would catch the bus if they could get there safely and conveniently?"
See the link below for regional media coverage.
Further information