Regional bus users short-changed
7 Dec 2021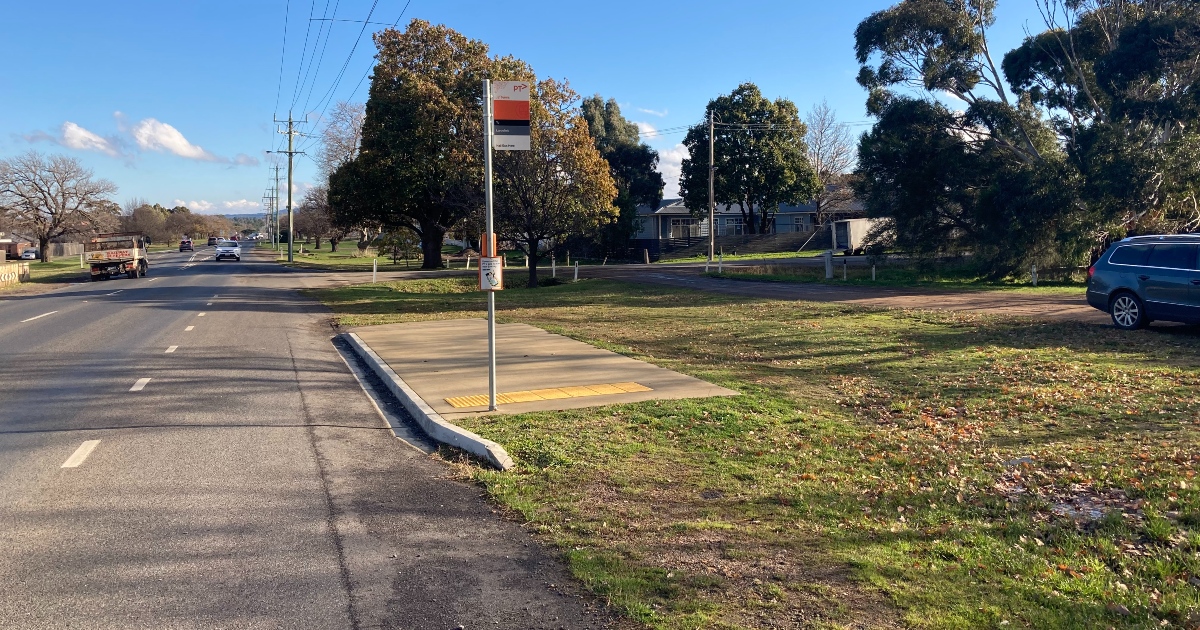 New research from Victoria Walks has found people are being left to dodge traffic on high-speed roads to get to bus stops and regional bus stops are typically lower quality than those in Melbourne.
Getting to the Bus Stop looked at the safety and amenity of walking access to bus stops across the state. It utilised a range of data sources including a survey of 436 Victorian bus users and professional access audits of 70 bus stops.
The research found regional bus stops did not have the same amenities as metropolitan stops:
Shelters at the bus stop are almost twice as common in Melbourne (29% of stops) compared to regional and rural areas (16%).
Little more than half (56%) of regional bus stops are wheelchair accessible, compared to 65 per cent of metropolitan stops.
While most bus stops have concrete surfaces to wait on – important for people with limited mobility or prams – 23 per cent of regional stops were left as grass or soil, more than twice the rate in Melbourne (10%).
"Access to bus stops is neglected across the state, but regional bus users are getting a raw deal even by Melbourne's poor bus standards," says Dr Ben Rossiter, Victoria Walks' Executive Officer.
Across Victoria, the study found 60 per cent of audited bus stops were on higher speed 60-80km/h roads, often with four lanes of traffic, but 95 per cent of these had no crossing at the stop. And it is typically more vulnerable people crossing the road, with one third of bus users aged between 10-19 years and 11% are aged over 60.
"Young people catching a bus to school shouldn't have to dart between traffic on a four lane highway to get to a stop, like they're in a game of Crossy Road," said Dr Rossiter.
Rebecca Carter catches buses to get around Geelong.
"I have a choice between catching the bus on Station Street, a four lane road with massive logging trucks, or the Princes Highway which has six lanes," she says. "Last week I almost got run over running across the road to catch the bus, because someone didn't want to take their foot off the accelerator."
On the walk to the stop, she often sees cars parked in driveways blocking the footpath. "I have seen people with mobility scooters and wheelchairs forced onto the road because they can't get past on the footpath."
The research found many bus stops may not be safely reached by people with disability, older people or parents with prams. More than one third (36%) of the audited bus stops did not have pram ramps or even a driveway within 50 metres. And 17 per cent were not connected to a footpath in both directions.
"Everyone, regardless of ability, should be able to get to the bus safely and comfortably, but that's not the case at the moment," Dr Rossiter says.
Public Transport Users Association president Tony Morton said great public transport should work as an extension of walking, with "the freedom to walk out your front door and get to your destination with nothing more than a Myki card."
"But right now, that walk from home to the local bus stop is often just the first of many barriers we put in the way of people using public transport," Mr Morton said.
Comments from residents of regional Victoria who responded to the survey included:
"No footpaths... I walked on the road" – female, 30-39
"Have to walk on rocky areas on my road, which can cause discomfort due to me having bad feet." – female, 10-19
"Hardly any street lights in Moe when you leave the lights of the Moe Railway Station or any other stop near a major road street lighting is terrible" – male, 30-39
"The bus stop at Gateway Shopping Centre Warrnambool on the west side is way too narrow with a steep descent on the other side. If the bus pulls into the curb like they are supposed to, there is not enough room for a wheelchair to get on the ramp." – female, 60-69
"A nearer bus stop would be more convenient" – female, 70-79
"Clearly marked footpaths that continue would be nice. When these are not present I will walk in the road way and make the cars slow for me." – female, 60-69
The report says standards need to be changed to provide crossing facilities and footpath connections at new or upgraded bus stops. It recommends that the state government should create a fund for retrofitting pedestrian crossings and kerb ramps at highly used bus stops. It also suggests that the federal government should fund improvements to meet Commonwealth disability legislation requirements.
"If the Government really wants more people catching buses, then they must ensure people can actually get to a bus stop," says Dr Rossiter.
Media coverage
The Ballarat Courier (paywall) interviewed local bus user Bernadette Cheesman, who emphasised the need for bus shelters and seats. "Being on your feet for an extended period of time on a bad day, I get very wonky," Ms Cheesman said. "You need to sit down. I think there are a lot of folks out there in that situation."
The Courier also did a follow up article (paywall) with responses to the report from the Department of Transport and City of Ballarat. Deputy Mayor Amy Johnson said "this report highlights the need for council to continue to lobby the state government for increased funding for our bus shelters to improve their quality and also for better strategic placement of shelters."
The Geelong Advertiser picked up on the fact that because of the way statistics are collected and reported, we don't know how many people are injured or killed walking to bus stops.
The Sunbury Macedon Ranges Star Weekly interviewed the local community health service, who reaffirmed the need for good public transport services and safe walking access to them, so that everyone can participate in the community. "Many of our program participants do not drive and this impacts their ability to get to appointments and group activities."
You can read a summary of the metropolitan media coverage here.