Why children need to walk more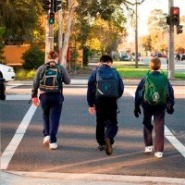 There are dozens of reasons why walking is good for children. Walking keeps them fit and active, helps them learn about road safety and prepares them for independence. It shows them that the world is an interesting place, and gives them the chance to watch their own neighbourhoods change with the seasons. It keeps them connected with other people who live nearby – older people and other children.
One of the best things you can do as a parent is to walk regularly with your children, and encourage them to walk more. You will be helping them to set up a lifetime of healthy habits from an early age.
As a community, we all need to be out and about on our two feet more often if children are to be inspired to do the same (it's difficult for parents to convince children that walking is fun if nobody else is doing it).