How to create digital walking maps
Turn your best walks into inspiring content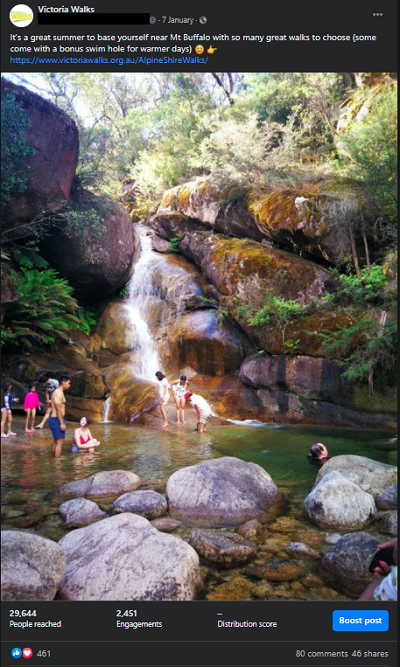 Councils, visitor centres and community organisations are using our digital maps to spread the word about local walking tracks and green spaces.
Our VicHealth-supported free resource allows organisations to celebrate and share great walks in a visually appealing and share-friendly online format, to inspire recreation, activation of green spaces, connection with nature and walking tourism.
Our Walking Maps were visited more than 1 million times in 2020 and can be created Australia-wide. Digital walks can be accessed anywhere and look great shared on social media. They allow users to toggle between a clear map with Google directions to the start point, and an inspiring preview featuring photos and descriptions of walk highlights.
People can easily find your walks at the Walking Maps homepage using the 'by area' tool, but individual maps are easily found through internet browsers such as Google and Safari.

Victoria Walks' Walking Maps platform has recently helped the following organisations share their great walks:
Alpine Shire
East Gippsland Shire Council
Strathbogie Shire
Parklands Alburg Wodonga
Victoria Walks has a mission to ensure all people have access to safe and inspiring places to walk, no matter where they live or travel. We're happy to help promote your walks to our large audience of walkers provided your digital maps meet some quality benchmarks.
What's in it for councils?
Drive interest and use of local parks and trails, activate local recreation spaces
Highlight your region's natural assets to a wider audience of walking lovers
Use links to drive traffic back to your organisation's recreation or tourism pages
You can monitor map 'views' to report your reach
Digital walk maps are free and easy to create


DIY: How to create digital maps
Follow the steps below. Organisations such as councils can request more detailed instructions if required.
Using a PC (not a mobile device) register an account at the walkingmaps.com.au homepage.
Note: username displays on maps so you may wish to use the name of your organisation or group


Once logged in, begin making a map by hitting the 'Create' tab.


Start plotting the walk route by:
a) finding the start point on the Google Map and manually plotting the route. Switching to 'satellite' view can help ensure you follow the actual track accurately and do no cross trees, buildings etc. Be sure to drop enough markers / points to reflect the trail's curves etc ...

b) Or, by uploading a GPX file of the walk route (recorded by an app such as Geo Tracker).


Name the map (use the walk or park name).
Include the area, Eg: Redwood Forest walk, Warburton. Then fill in the walk 'address' field (the walk's start point).


Check the automatically-calculated walk time ('duration') is realistic. Steep, or rocky walks may require an adjustment to Google's automatic calculation.


Summarise the walk – give a brief description of the walk in a way that will inspire others to try it. This summary will appear when the finished map is shared on your social media or listed in browser search results.


Describe the walk in greater detail in the larger box provided. Give extra interesting or relevant information. You may also include a relevant website link.
Note: Links to business websites may not be permitted on Staff Pick walks unless the map is sponsored or created in partnership with Victoria Walks.


Grade the walk (level): Is the walk easy or difficult? Consider its length and terrain. Who is the walk suitable for? Do not mark the walk as 'easy' unless someone pushing a pram or using a mobility aid is likely to be able to complete the walk.
Accessibility: To find out how to assess walks for All Abilities access and grading, see this page.


Save your map and move to the next page to upload Points of Interest (photos) to the route.
Upload 5-12 photos showcasing the walk's highlights and interesting features.
It is best to take photos in landscape orientation as these display best on our digital maps.
Include some photos showing people walking on - and enjoying - the track or views (people who have given you permission).
If your images are high resolution it may be best to reduce the file size to about 1MB to make this step faster.
** Photos must be original, or the rights owned by you / your organisation or your map will not be be made a 'Staff Pick' and may be deleted.


10. Add relevant features (eg: are there public toilets?)
11. Publish and verify your walk to view it live. Share!

Ensure your Walking Map is a 'Staff Pick' walk!

Map creators must perform the above steps (clear map name, description and 5-12 quality photos of the route) in order for the map to be labelled as a 'Staff Pick' map. Staff Pick walks appear in automatic search results, while maps that are not staff picks do not.

If you're having trouble creating a map, please contact us using this form.
Promoting your walks
You can now share your digital map to social media, email the URL to friends, or link to it from your own websites or newsletters.

Organisations can contact Victoria Walks to nominate:

For more detailed instructions and to ensure your walk is marked as a 'Staff Pick' (visible to all users at the Walking Maps homepage) please refer to our detailed Walking Maps instructions above.
Partnership maps
If your organisations does not have the capacity to create digital maps that meet our Staff Pick benchmarks you can enquire about our mapping service.

Victoria Walks' staff can create quality recreational walking maps (digital, or PDF for printing). Partnership maps can also include:
organisational branding (including banner images that link through to your relevant websites)
links to relevant businesses (subject to conditions) in walk description
logos with hyperlinks below walk description
promotion at Victoria Walks' websites, newsletter and social media pages

Note: Businesses should enquire about our digital sponsored maps, which can include banner images that link back to your website, bookings page etc. Your map will be marked as a 'sponsored map' showing your organisation supports our important work to get more Victorians walking more every day.