Smart Urban Futures Conference 2017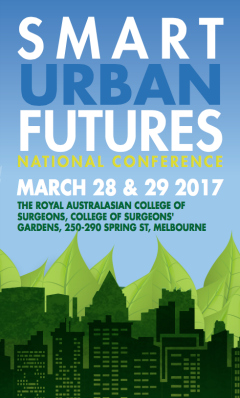 The fourth annual Smart Urban Futures Conference on liveable, walkable, sustainable communities, was held in Melbourne on 28-29 March 2017.
Heading the list of speakers was Brent Toderian, Principal of TODERIAN Urban WORKS and founding President of the Council for Canadian Urbanism. One of the World's leading urban planners, Brent was Chief Planner of Vancouver from 2006-2012. He now advises cities from Brisbane to Copenhagen, Sydney to Halifax.
Brent was joined by Skye Duncan, Director of the Global Designing Cities Initiative at the National Association of City Transportation Officials (NACTO), based in New York. This program, funded by Bloomberg Philanthropies, has developed the new Global Street Design Guide while providing technical assistance to cities on street and public space design around the world.
Other keynote speakers included:
Dr Tim Williams, CEO, Committee for Sydney
Tim was previously CEO of the Thames Gateway London Partnership and in 2003 he was voted by his peers as the leading person in UK urban renewal. He has written key reports on affordable housing and urban design – he wrote much of the current Mayor's Design Guide for London.
Professor Billie Giles-Corti, Director of RMIT's Urban Futures Enabling Capability Platform
For two decades, Billie and a multi-disciplinary research team have been studying the impact of the built environment on health and wellbeing. An Honorary Fellow of the Planning Institute of Australia and a Fulbright Scholar, she was previously Director of the McCaughey VicHealth Community Wellbeing Unit at Melbourne University.
Justin Madden, City Strategy Executive – City Operations Leader, Arup
A former architect, Justin held seven Ministerial portfolios across 11 years in the Victorian Parliament, including Minister for Planning from 2006-2010. He now works for Arup in strategic project planning and infrastructure development across Australasia and the South East Asian region.
Lucinda Hartley, Co-Founder, CoDesign Studio
Lucinda is an urban designer and social entrepreneur named by The Age as one of Melbourne's 'Top 100' most influential people. Her career includes roles as an Honorary Senior Fellow at the University of Melbourne, a member of the Ministerial Advisory Council for Fisherman's Bend, and advisor to UN-Habitat.
In addition to speakers and panel discussions, the conference included a workshop session exploring whether the planning for our streets and communities is taking us in the right direction. What are the obstacles and how do we tackle them?
A walkshop hosted by the City of Stonnington provided an opportunity to explore innovative approaches to encouraging walkable neighbourhoods that change the way cars and people interact on streets and in public spaces.
The program also featured a masterclass in behavioural interventions to encourage walking for transport, on 27 March.
The Smart Urban Futures conferences are jointly presented by the Municipal Association of Victoria (MAV) and Victoria Walks.