#LoveWalking
Pop-up Preston park creates streets for people (not traffic)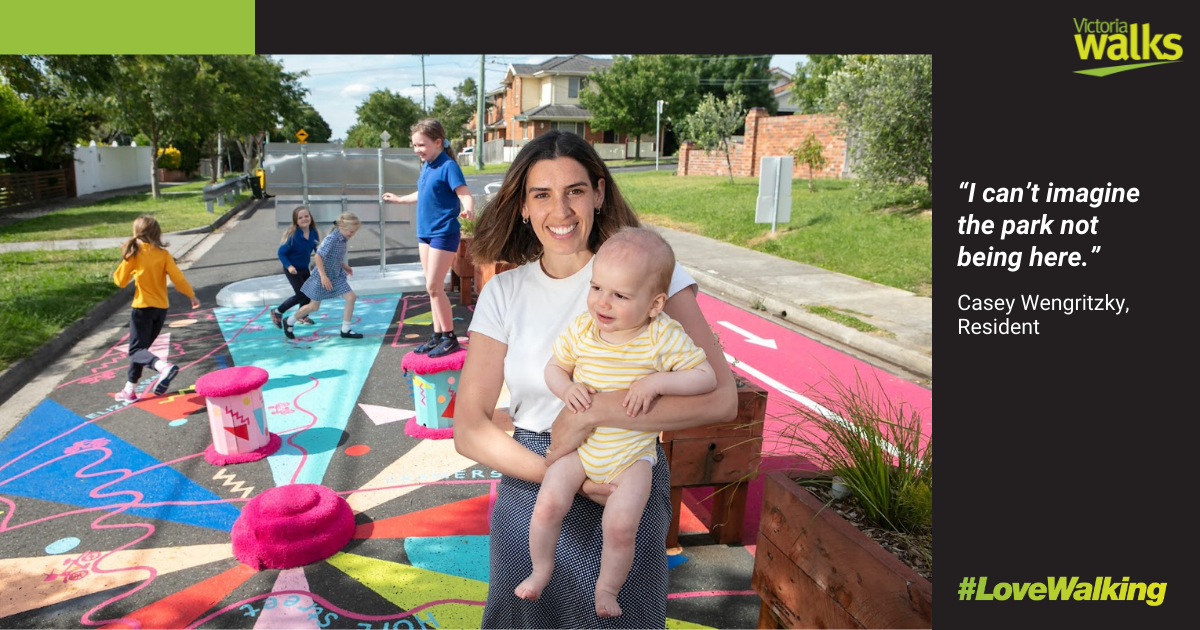 The Wengritzky family are making the most of their neighbourhood's newest addition; a brightly-coloured pop-up park in the middle of their Preston street.
Casey Wengritzky and husband Mark say the little park installed by Darebin City Council in 2021 has functioned as a community gathering space, and reduced the volume and speed of traffic cutting through their local street.
"It's interesting how such a small space can have such a big impact," says Mark. "You look out and there are often families and kids on scooters [in the pop-up]. People stop and talk to each other… The neighbourhood has more of a community feel."
Prior to the pop-up park, the couple considered selling their home on James Street because it did not feel like a safe place to raise their one-year-old son Gus.

James Street — and the residential streets around it — is within walking distance of four schools, and attracted drivers who cut through the area rather than sticking to larger arterial roads such as Bell Street, Casey explains.
However, traffic studies conducted by Darebin City Council near the pocket park / road closure before and after the park was installed, show the average driver speed has reduced from 45.4kmh to 37.9kmh and that peak traffic volumes in the morning and afternoon have been cut in half.*
Mark recalls one incident prior to the park's installation when Casey was pregnant: "I was working from home and staring out the front window… A driver came around the corner of Cramer Street into James Street so fast they came up over the nature strip and onto the footpath."
Another resident, Matthew Burke, had a different driver crash into his front fence. Matthew, who has two school-age boys and a baby, didn't even feel safe to park outside his house and unload his children, let alone feel comfortable about the children playing outside or walking to school.
But that has largely changed. Darebin Council is still consulting with residents about whether to make the park permanent, but Matthew believes the benefits are clear.
"If I drive to work I have to alter my route to consider the road closure, but that's a small price to pay for safer streets for everyone."

His boys can easily cross James Street now on their way to primary school or the Merri Creek, and the pop-up remains a drawcard for locals (even post-Covid lockdowns) with the closest park 500m away.
Matthew recalls local families wheeling a BBQ up to the pop-up on a summer evening to enjoy a meal together and says it's a place for people to break up a walk or their day. "I've seen tired parents just resting on the seats while their kids play, women breastfeeding infants, older residents resting and teens sitting and chatting."
Casey Wengritzky says the installation has dramatically cut traffic noise and home life is no longer hooked up to an unsettling, intermittent soundtrack of "engines, brakes and squealing tyres".
"I can't imagine the park not being here."
Another resident, Kristan Baker, says a small number of drivers doing the wrong thing was enough to make the area feel unsafe for cycling.
"I do a lot of road cycling and go out to places like Kangaroo Ground, but the most troublesome part of my journey was always getting back home and riding along Cramer Street. "It's a bit wider and drivers cutting through would go too fast and [not] give us room. There were always close calls".
He now feels much happier about his teenagers riding to high school.
For Mark Wengritzky the little park has changed his whole view on the role of neighbourhood streets. "They can be for people on bikes and for the people who live there, so they can enjoy their surroundings, kids can play and the area can have a community feel."


*Traffic study in March 2021 conducted in James St between Hope St and Cramer St (now the site of the pop-up park). February 2022 traffic study conducted in James St, a little further to the north (between Cramer St and Murray Road).

Spread the word
Would you like to see similar changes in your area? Share this #LoveWalking story.

Copy the URL text into emails or social media posts, or use the 'share' to Facebook/Twitter tab at the top of this page. Let's show that walking matters!
Also see: More #LoveWalking stories