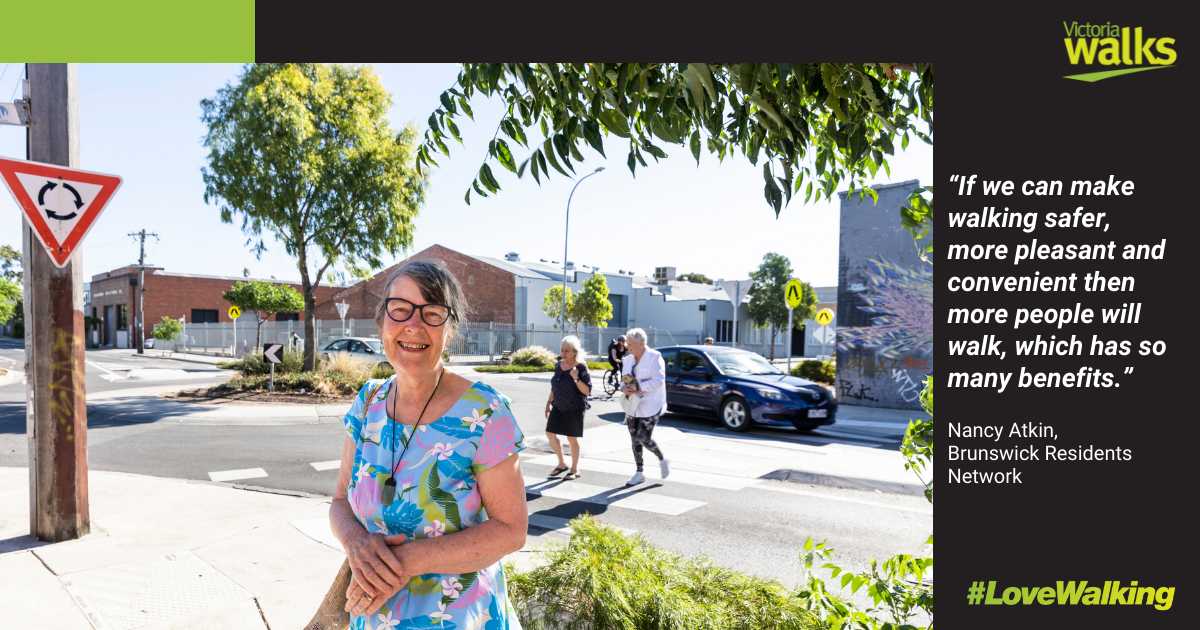 People living in inner-city Brunswick already live in a relatively walk-friendly part of Melbourne but a community survey recently found many residents think they would walk even more if local streets:
had more trees
were better lit at night time
were easier to cross
had wider, more even footpaths
When Nancy Atkin and friends from Walk On Merri-Bek and the Brunswick Residents Network distributed a survey about walking in 2021, they were overwhelmed when over 900 people filled it in. Respondents provided so much extra detail about what they liked and didn't like about walking in Brunswick that it took the community group three months to analyse the data.

"We were actually surprised at how much people walk," says Nancy. The Brunswick Residents Network has since presented a report to Merri-Bek City Council (at the time called Moreland City Council) with 35 recommendations to improve local streets for walking.
The people-powered push comes at a time when councils and state governments are beginning to show increased understanding of the important role walking promotion could play in reducing traffic congestion and transport emissions, in improving community health and in making neighbourhoods safer, happier places.

The potential for change is huge, with people living in Melbourne and Geelong currently making five million car trips each week that are less than 1km.
The Victorian Government recently announced a goal to increase to 25% by 2030 the proportion of transport trips made by walking and bike riding (up from about 18 per cent), while the Liberal government in New South Wales has a Minister dedicated to active transport.
But while goals are a great start, the Brunswick Residents Network says they're not enough. Its top recommendation is to "recognise walking's importance… by prioritising walking in budgets and strategies," not just in policy.
"Nearly everyone can walk," says Nancy. "So as a priority for investment walking is low-hanging fruit, for getting more people active and moving some trips away from private motor vehicles."
Merri-Bek councillors voted for a feasibility report on adopting the Brunswick Resident Network's key recommendations at their December 2021 meeting.

Residents have often been a force behind walking improvements in Brunswick, with the survey report just the latest example. Here are three more:
Ewing Street campaign (2015 - ongoing)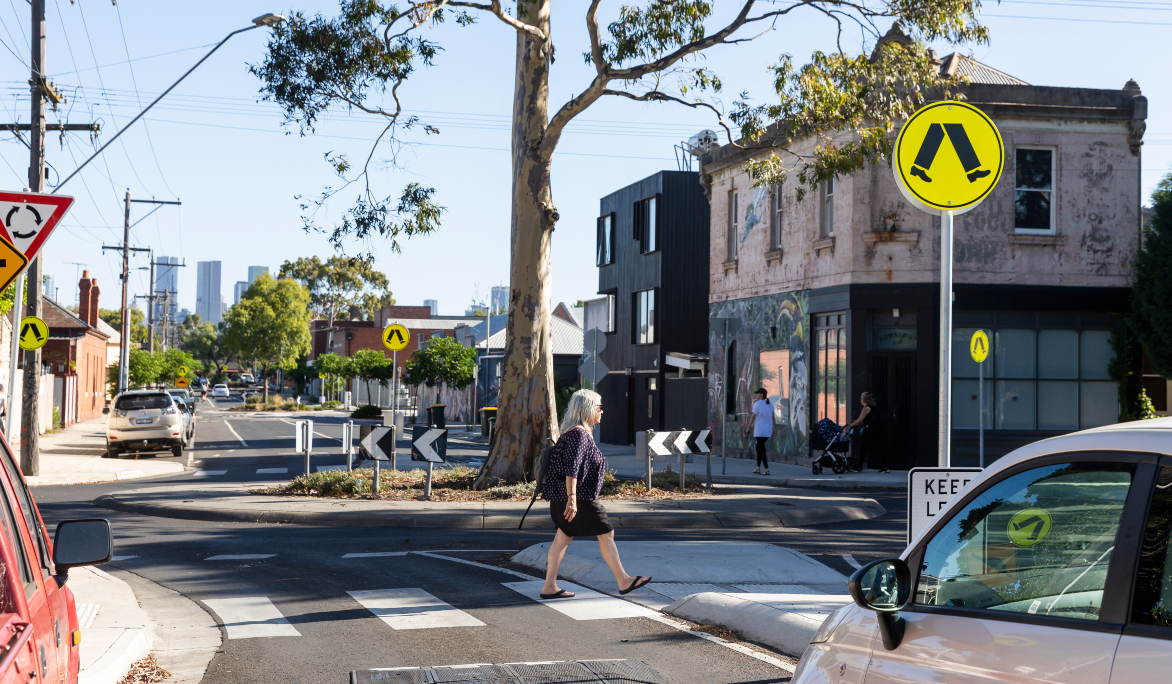 Years of campaigning by community groups helped prioritise safety upgrades along Ewing Street (pictured above), a key walking and bike riding route to Princes Hill Primary School, Princes Park and to the city.
The Ewing Street Road Safety Campaign resulted in indented street parking, new bike lanes, a safer 40kmh speed, more street trees and safety improvements for people walking and riding through three Ewing Street roundabouts.
More recently community groups including Walk On Merri-Bek campaigned for zebra crossings to be installed at Ewing Street's roundabouts to make them safer and more convenient for walkers to navigate.
"The zebra crossings and wider footpaths leading into the roundabouts, together with bike lanes and trees, have calmed traffic and more drivers are looking out for people walking," says Nancy Atkin. "Ewing Street is gradually turning into a nicer place for walking."
Warrk-Warrk bridge over the Merri Creek (2000-2020)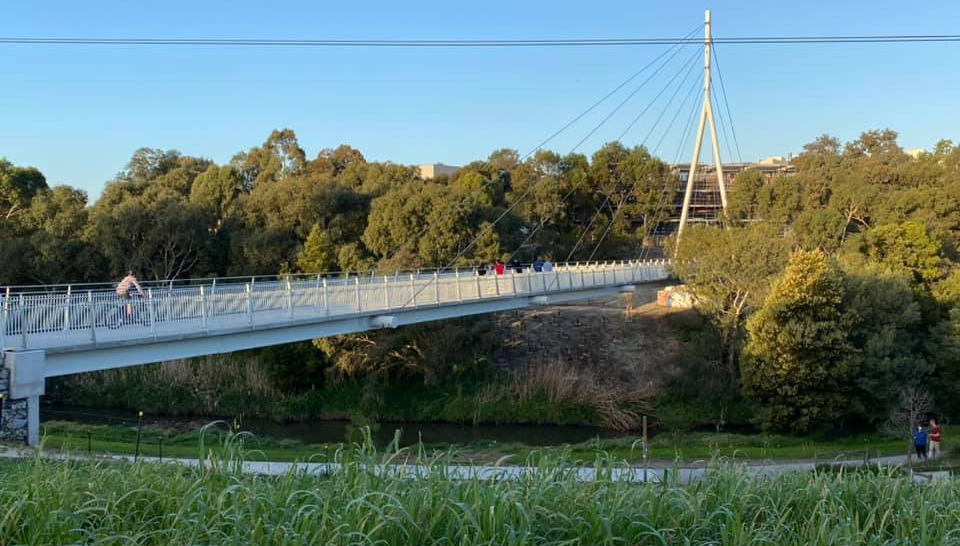 Children living in Brunswick East and Northcote can now cross the Merri Creek to access their zoned schools using a wide, car-free bridge.
Parents living on both sides of the creek petitioned over 20 years until Moreland and Darebin councils agreed to jointly fund and build the $3 million bridge, which now provides a safe, pleasant east-west route for people of all ages and abilities to walk and ride to many local destinations, including CERES (environment park and market).
Greening streets for shade and biodiversity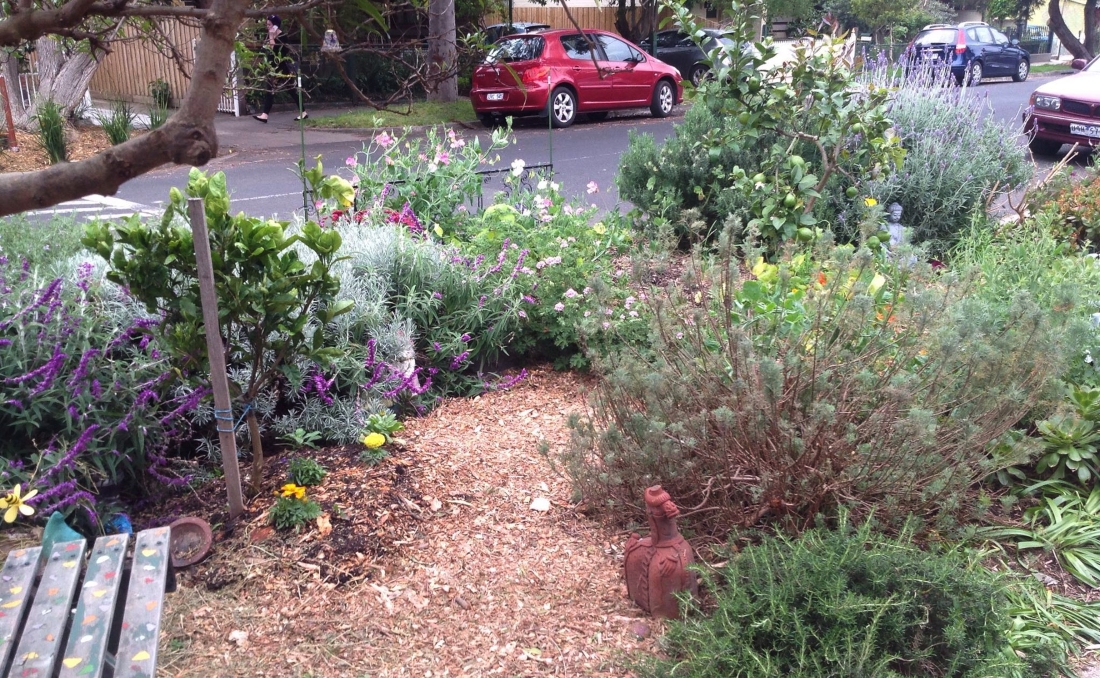 While desire for more street trees featured strongly in the Brunswick Residents Network walking survey, locals have long been taking matters into their own hands. Friends of Edward Street and Brunswick Communities for Nature have transformed streetscapes by growing and planting understory groundcovers and shrubs to make local walks cooler, more interesting and to provide habitat links for birds.
Merri-Bek (nee Moreland) City Council's Urban Forest Strategy credited groups such as these for helping improve the municipality's tree canopy cover from its low base.
What next for Brunswick's walkability?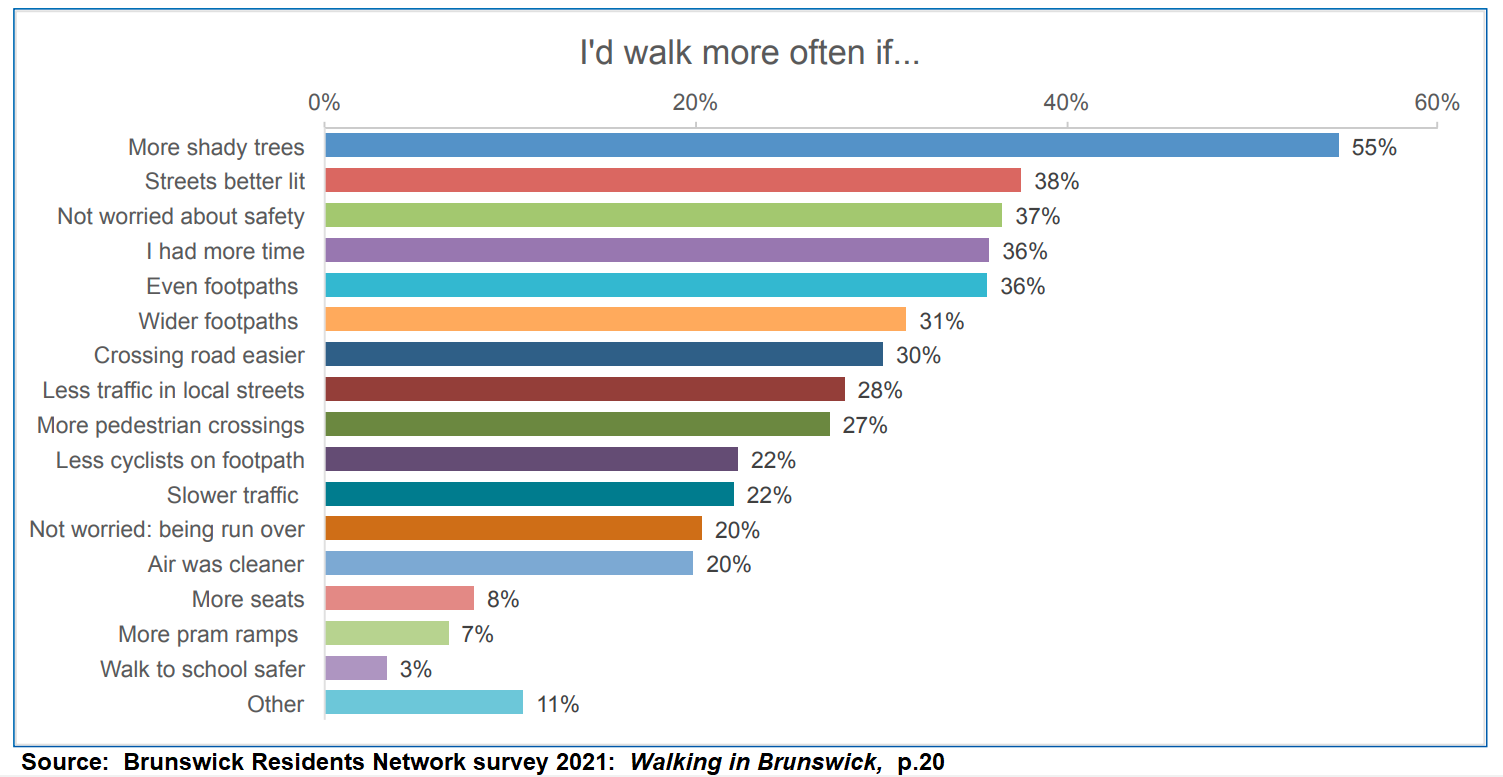 While Brunswick and Brunswick East already rank among the more walk-friendly of Melbourne's 346 suburbs according to Walk Score*, the resident-led survey showed scope for improvement.
As an older suburb located in Melbourne's inner north, Brunswick's shops and services are within walking distance to most homes. But its legacy of small, residential streets and narrow footpaths, and its gentrifying industrial areas are struggling to keep pace with increasing amounts of walking and nike riding.
Nancy Atkin, a founder of the Brunswick Residents Network, says the heavily congested Sydney Road footpaths (and to a lesser extent Lygon and Nicholson streets) and growing amounts of vehicle traffic on residential streets are also causing headaches for residents who walk.

The BRN has recently begun advocating in its community in support of council plans to conduct trials of 30kmh safer speeds on selected roads in Moreland.

"It's about making local streets safer but also less noisy," says Nancy. "Subconsciously we choose quieter streets and routes when walking. We might even walk further to avoid the busier roads."
A surprising result of the survey of 922 Brunswick residents was the number of people who walk for economic reasons (51 per cent) or because they don't have access to a car.

But Nancy says many people in Brunswick choose walking "for practical reasons… It's often the easiest and nicest way for them to get around.
"If we can make walking safer, more pleasant and convenient then more people will walk, which has so many benefits."
* Brunswick ranks 26th and Brunswick East 31st, but Brunswick West ranks 107th out of 346 for Melbourne's suburbs according to US website Walk Score.
More information
Warrk Warrk bridge
The Arthurton Street Merri Creek crossing was voted as one of Melbourne's least safe places for walking and cycling in a 2017 study. See the Melbourne-wide Walk Spot report by Victoria Walks and Crowd Spot (p. 23)
Moreland active recreation rates
Seven in ten adults in Moreland participate in non-organised physical activity, with walking (45.8%) as the most common form of non-organised physical activity. The cycling rate in Moreland (22.1%) is nearly double the average for Victoria (11.8%). Source: Moreland Health Profile (active and green living)