Victoria's Valuable Road Users
We all want to keep walking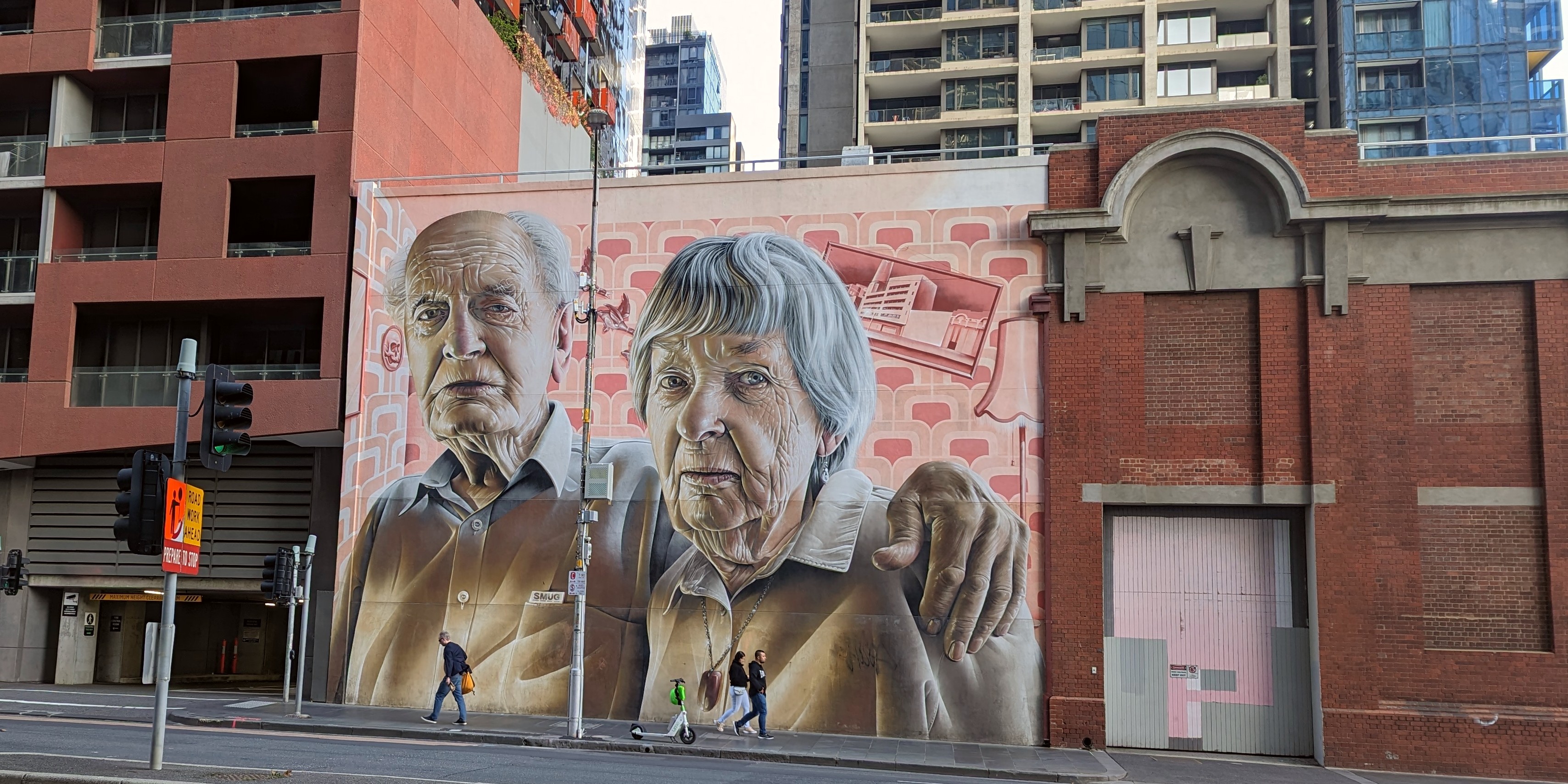 Walking becomes more important as we age. Walking comprises 77 per cent of the total time spent on physical activity for people aged 75 years and over.
Access to safe, walkable environments allows older people to remain active and socially connected.

Currently, older adult walkers are well over-represented in Victoria's road trauma statistics related to vulnerable road users. People aged 70 years or older made up 35 per cent of pedestrian fatalities in metropolitan Melbourne 2002-2022 and are also more likely to be injured while walking than younger Victorians.
But this is why older adults are so important to walking! Streets and neighbourhoods where older Victorians feel safe and supported to walk are likely to be meeting everyone in a community's needs, regardless of age, income or physical ability.
What can we do to make streets work for everyone?

We'd like to introduce you to some of Victoria's Valuable Road Users. Take a walk in their shoes and learn what our governments (and younger Victorians) can do to ensure that we can all keep walking - for as long as we want to!
Dave's story
As a younger man in the army Dave Allen regularly ran 16kms at a fast trot. Now, as an 83-year-old in Melbourne's outer suburbs, getting around is more of a challenge.
Trips and falls in the street send 5000 Victorians to hospital each year. More walkers are injured by falls than in crashes with people driving vehicles.
The majority of fall-related hospital admissions involve older adults, with walkers aged 75-84 having a hospitalisation rate nine times greater than people aged 35-64 years.

ACTIONS: Dave wants more money spent on footpath maintenace (to prevent trips) and on more separated spaces for recreational walking and cycling. Read Dave's full story here, or watch and listen his story by clicking the video below.
Christine's story
"Walking is the thing that keeps me connected to my community," 73-year-old Christine Filiamundi says.
The Brunswick resident has never driven a car, prefering to walk and use public transport.
But her love of walking was nearly shattered when she was hit by a turning driver at lights on Lygon Street six years ago.
ACTION: Simple changes including safer speeds and design improvements at intersections could make Victoria's streets safer for everyone. Read Christine's full story here, or watch her story by clicking on the video below.


Sue's story
Sue Owen does everything possible to keep fit and strong and walks at least 5km each day through the streets of her suburb in Melbourne's inner east.

While Sue is fit, something that increasingly concerns her is trying to get across busy roads.

One-fifth (21 per cent) of all pedestrian crashes involving 65+ year olds occur at intersections with lights (signalised intersections).
A Victoria Walks study VicRoads CrashStats data found drivers caused 72 per cent of crashes with older walkers at signalised intersections in the five years from 2008-2013.
Sue says she doesn't always feels safe, even at lights.

"I have definitely felt at times that the driver has not seen me, and is not going to see me, because they're so focused on something else" she explains. "I don't think I could move quickly out of the way.

"I walk at a steady pace, not a very fast one."
ACTIONS: Sue would love to see less large cars on Melbourne's roads and would like people to pay attention to walkers when they are driving and parking, so she feels safer. See Melbourne's streets through Sue's eyes by watching her 2-minute story below.