#LoveWalking
Council heeds community call for safer speeds on local streets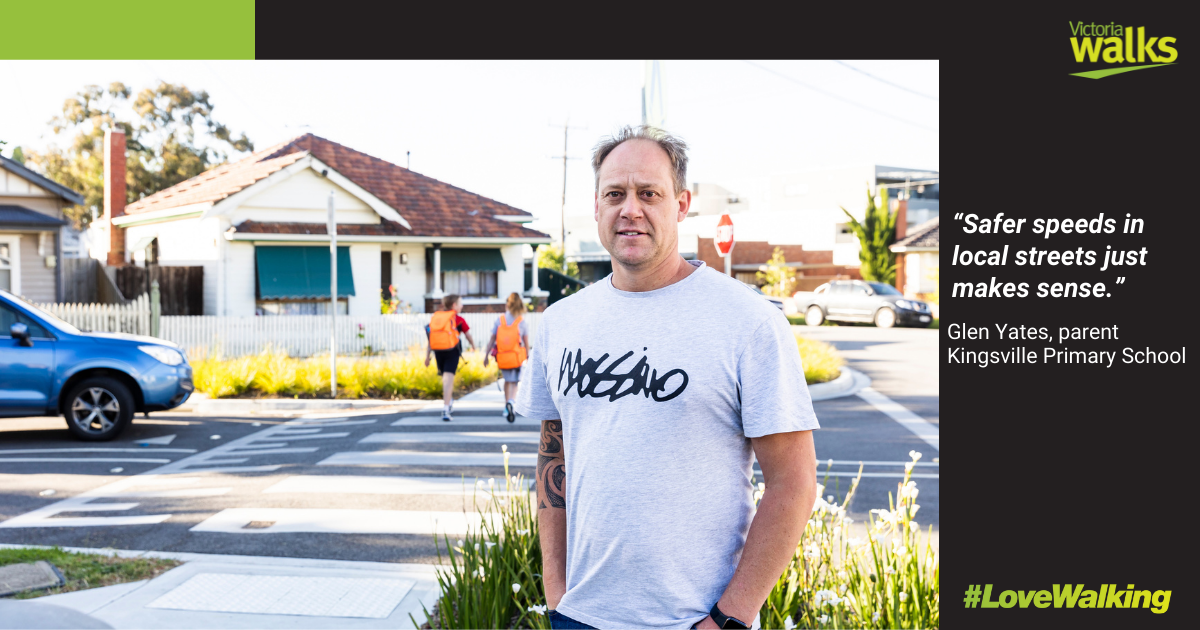 Yarraville brothers Charlie (10) and Flynn (8) recently began walking 1km home from primary school together. Charlie loves walking with his brother because "I like exercising, we talk about our day … and sometimes parents are boring".
Many things, such as working more from home, have helped the family shift to independent travel according to the boys' mother Simone. But she also feels her local streets are safer now.
Simone lives in City of Maribyrnong, which recently became the third municipality in Melbourne to take Victoria's default 50kmh limit to 40kmh on nearly all residential streets.
The change was prompted by surveys that found the vast majority (75%) of residents felt drivers were travelling too fast on local roads. Since safer speeds were introduced in Seddon and Yarraville, traffic studies have shown 60% fewer crashes where people have been injured. This means all road users are safer, whether they walk, cycle or drive.
City of Maribyrnong's safer speed limit is supported by other council measures to calm traffic:
Raised pedestrian 'wombat' crossings and raised thresholds at intersections.
Flashing speed and speed detection signs (which give safe drivers a smiley face)
Zebra crossings at roundabouts in areas with lots of walkers
Bright yellow painted pedestrian crossings at traffic lights near schools and shops
Kerb extensions at intersections so kids spend less time on roads in front of traffic
Rubber speed cushions that reduce vehicle speed but minimise driver discomfort
New speed limit painted on the surface of local roads where speeding persists
Raised thresholds, like this one on Somerville Road, slow drivers at crossing points, make walkers more visible and reduce tripping hazards, which is especially important for older people walking.
Maribyrnong's transport coordinator Eng Hwa Lim says the changes are especially helpful for more vulnerable road users. "It's important we make the roads and crossings safe for children who are small. Drivers travelling at safer speeds can react to anything unexpected."
Local parent, Glen Yates, says the changes have made him a better driver. "I used to jump in my car and my focus was straight ahead and where I needed to be," says Glen. "The speed signs are a clear switch to check my speedo. I'm more aware that there are kids walking and I see what is happening on the side streets."
Council and community working together
As school council president at Kingsville Primary, Glen plays a role communicating Maribyrnong's road safety changes to other parents.


He works with the council's Road Safety Officer Alison Wilson, who runs the Active Paths program at Kingsville and other local schools to educate families about the safer walking and cycling routes being created.

Saint Margaret's Primary School joined the program in February. Principal Gavin Brennan says the school's population had grown 40% in two years and school-generated traffic had become a big safety issue at drop-off and pick-up times.
"We've been promoting the Active Paths and encouraging families to park further away," says Gavin.
"More people are leaving school on foot and bike. "Hopefully soon we'll see even less cars in the area as this makes everyone safer."
While parents know walking provides a physical boost, Glen Yates believes it has mental health benefits too. "It's about kids learning 'I can get myself to school safely,' and that's huge for their confidence".
Glen's son Liam (12) now regularly walks to other places such as the park with his dog or to the local shops to meet friends. He says he feels safe. "I think it's better for me if I can walk places," says Liam.
Would you like to see similar changes in your area? Share this #LoveWalking story in your community. Copy the URL text into emails or social media posts, or use the 'share' to Facebook/Twitter tab at the top of this page. Let's show that walking matters!

Also see:

Further information:

Images: Drew Echberg for Victoria Walks