Blind Creek now a walker's paradise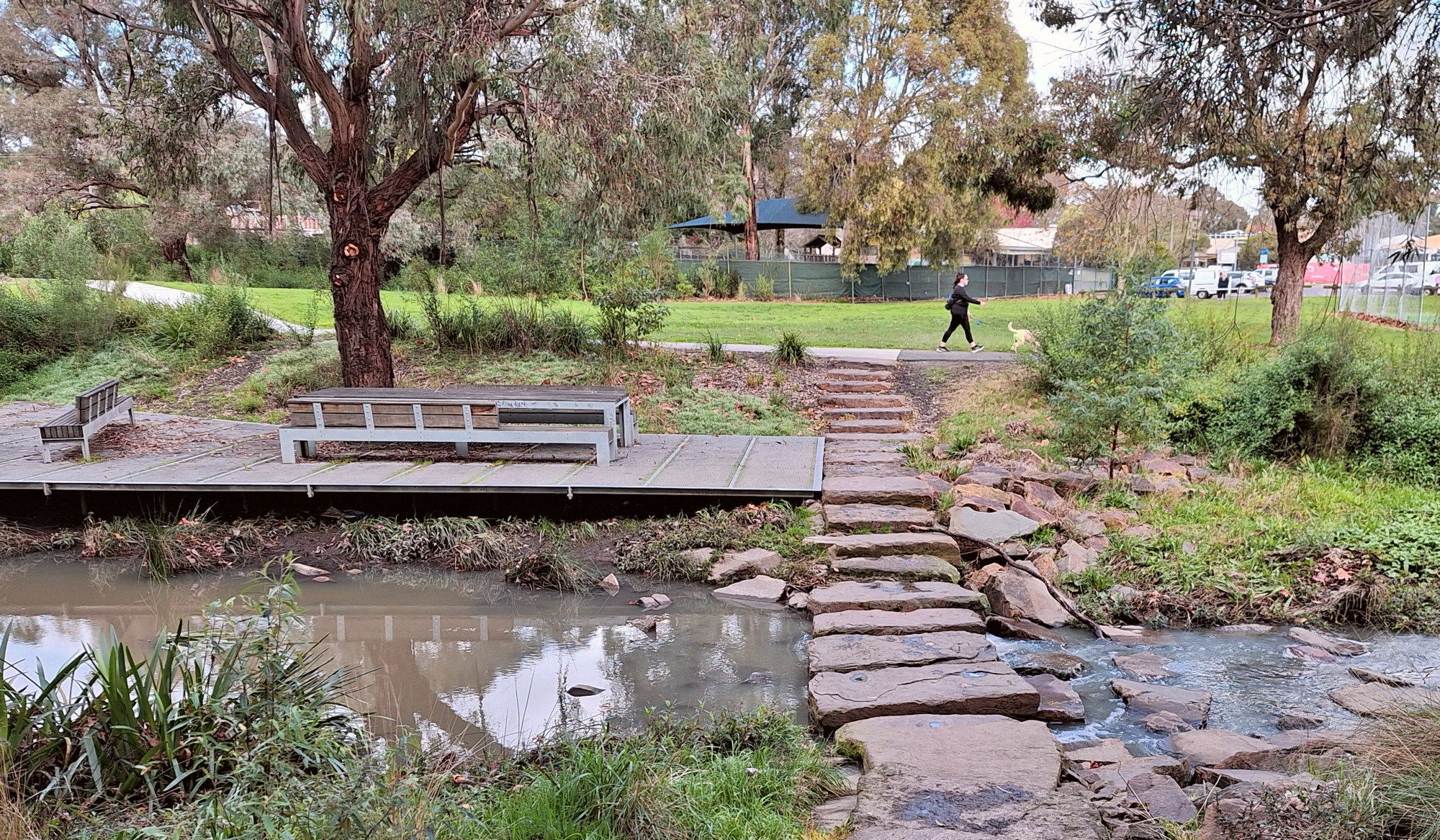 Fay and David Rimmer love the soundtrack that now accompanies their local walk; water cascading over rocks, kids playing on stepping stones and indigenous grasses and shrubs rustling in breezes along the banks of Blind Creek.
But the section of Blind Creek that runs through Boronia wasn't always a pleasant place to stretch the legs.
Fay recalls it "used to look like a tip".
She says before a 2019 project to naturalise the urban waterway, people used the land as a dumping ground.

"There were mattresses, burnt out car bodies and old TVs… Gosh it was awful."
But Melbourne Water's decision to "daylight" this 650m section of Blind Creek between Manuka Drive and Scoresby Road has completely transformed the area into an attractive and vibrant green space where people want to spend time, not dump rubbish.
Melbourne Water's Neil Featonby explains daylighting is when "an underground, man-made drain or channel is ripped out to create a new waterway on the surface."
The reinstatement of an open, flowing channel to better resemble the original form of a creek adds back value not only for local human residents, but other species.
Fay and David were part of a community advisory panel consulted by Melbourne Water, chosen because they had helped found the Friends of Blind Creek Billabong group.
The couple also happen to be avid walkers, having climbed peaks in Nepal among other adventures.
Their vision was for an active recreation corridor regenerated with indigenous flora that would attract wildlife back into the space.
Native species are now outcompeting the blackberries and foxes that used to run rampant.
David says he loves that the corridor is now home again to kangaroo and wallaby grasses, rosellas and other parrots, cockatoos and corellas.

"As soon as the water started running near the new nice, curvy creek, the ducks came in their hundreds."
The value of green spaces since Covid-19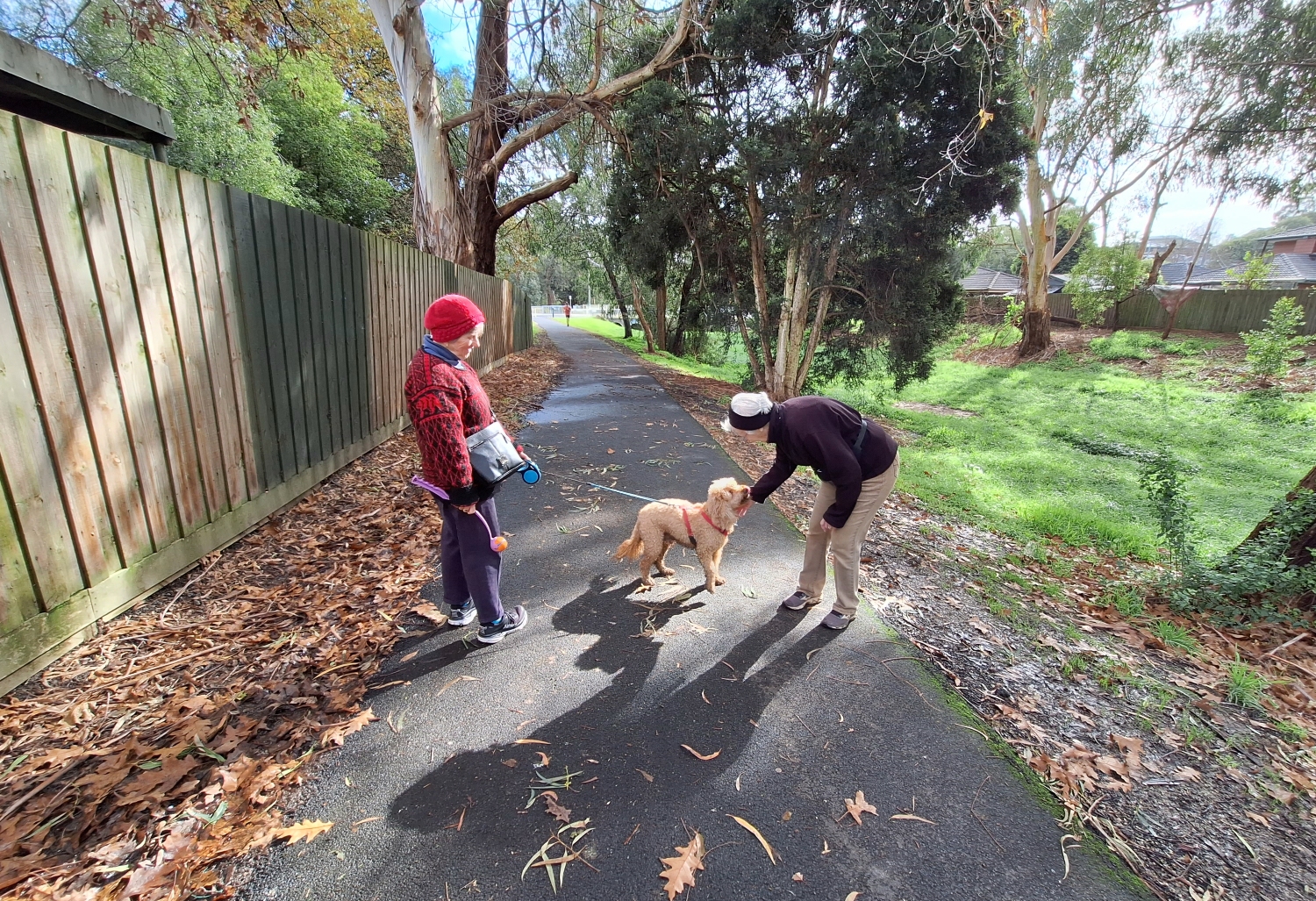 Fay says Blind Creek is "now a lovely place to walk along".
"It is now very busy with people strolling along – kids on their little bikes and the picnic tables are very well used."
"There is a nice steel bridge to walk across the creek and a gravel walking path on the other side to Fairpark Reserve, which wasn't there before."
While having a nice park close to home is near the top of Australians' wish list when looking for a place to live [1], the real value of accessible green space became even more apparent during the Covid-19 pandemic lockdowns of 2020 and 2021.
The timing of the Stage 1 Reimagining Blind Creek project was great, says David.

"We could walk along it during the lockdowns. It was in our 5km radius so we walked along it nearly every day. There were so many people using it."
Across Australia walking became much more important for keeping people both physically active and socially connected [2]. A University of NSW study conducted during the lockdowns found the odds of connecting with neighbours were five times higher for people who visited high-quality green space than for those who didn't or couldn't.
Related benefits were also much stronger if green spaces were higher quality. For example, regular exercise and relief from stress were both more commonly reported by people visiting higher-quality green spaces.
Fay and David are excited about Stage 2 of the Reimagining Blind Creek project, where a further 1650m of the old creek channel will be daylighted between Scoresby Road and the Lewis Park Retarding Basin.
Melbourne Water is leading the project in partnership with Knox City Council, Victoria's Department of Energy, Environment and Climate Action and Wurundjeri Woi Wurrung Cultural Heritage Aboriginal Corporation.
"We'll be able to walk so much further, all the way to Lewis park," says David.

The couple now help to organise community weeding and clean-up days along the creek, to keep in looking good for human and animal visitors alike.

See a Melbourne Water video about the project below.

References
[1] The Heart Foundation, What Australia Wants report 2020/2021 (Top 10 most mentioned important neighbourhood elements, p13)
[2] A 2020 VicHealth survey found more than 1 in 3 Victorians planned to walk or ride more than they did pre-coronavirus. Walking was the only type of physical activity that had a significant increase in participation from the first to the second Covid wave, from 73% to 80%. A more recent survey found active Australians walked 27 per cent more often during Covid-19 restrictions.