Meet Mallacoota's 'Footmobiles'
Walking together for health and wellbeing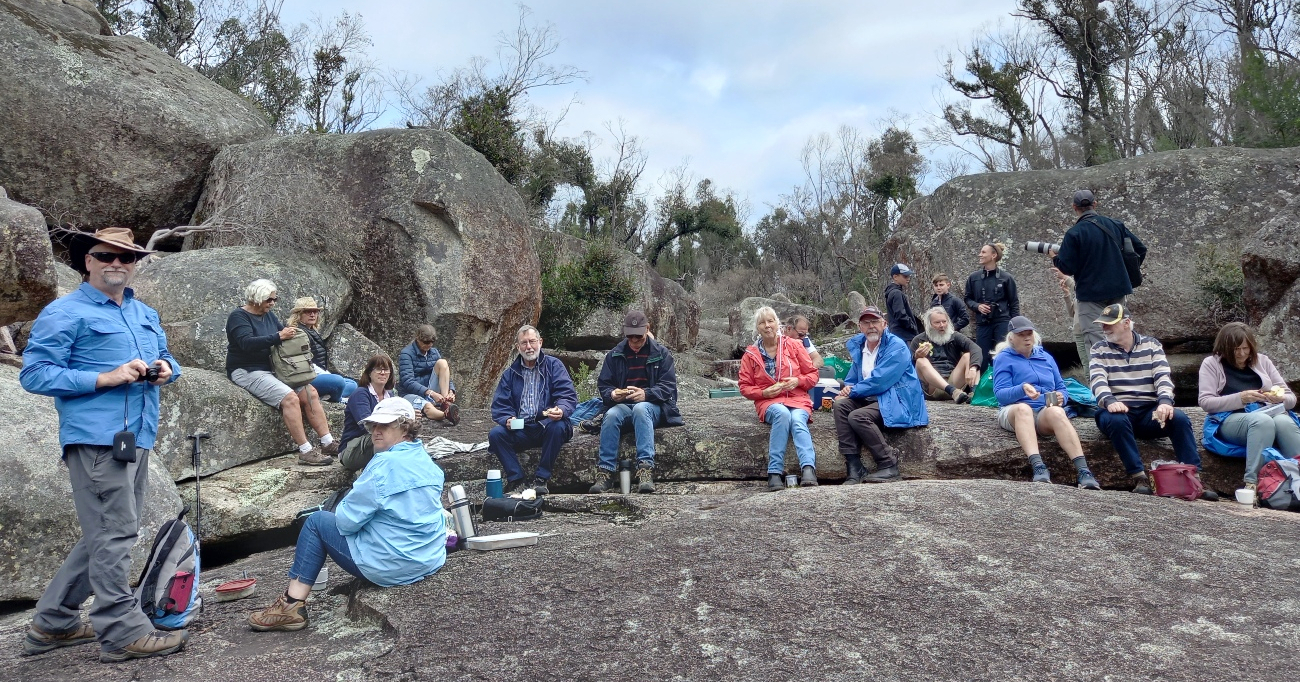 Recently we learned about Mallacoota's 'Footmobiles' – a group that meets one morning a week to share and explore together the gorgeous local trails in its region of East Gippsland. The walks have been running for nearly 30 years.
Footmobiles doesn't have a committee or any fees and the burden of organising weekly walks (5-8km in length) is spread among 30 or so regulars, and determined at an annual social gathering in late-summer. Long-time member Liz McKay says the group's simplicity is the key to its success.
It might be a great, sustainable model for other communities to replicate.
Numbers have steadily increased since a few friends started the group in the mid-1980s, although the average age of walkers has increased as lifestyles have become more hectic.
Liz McKay, now 77, was 44 when she moved to Mallacoota from Melbourne.
"Joining the group was a great way of getting to know Mallacoota... It was how I learned about all the back and bush tracks and now I get a lot of pleasure when new people come along and they say 'I didn't realise this track was here or this particular orchid was growing in Mallacoota'."
As well as weekly walks, the group also plan monthly walks to places a bit further afield such as Bettangabee Bay or Eden. Once a year the group embarks on a multi-day adventure to different landscapes such as the Blue Mountains or Grampians.

See the group's 2023 schedule of walks here.
Walking through tough times
Walking was especially important to locals in the wake of the massive bushfires that swept through large parts of the East Coast at the end of 2019.
Regular walkers Julie and Tony Brindley almost lost their home when the 2019 fires burnt 400 of their 500 acres, located 15km from Mallacoota. Tony had been working hard for years to realise his vision for establishing wetlands and habitat for native wildlife at the property, increasing the number of rare and endangered species from about five in 2006 when they first arrived to 19.
Tony says it took the wildlife two-three years to begin showing signs of recovery after the fires. Being part of a group like the Footmobiles helped them get through according to Julie. "It is more than walk group it is deep, deep friendships... Without it I think I would have been depressed."

The group continued to be an important source of social connection during the COVID-19 pandemic when walks were largely still able to occur in regional areas. "We just picked up again where we left off…," says Liz McKay. "But I go out of my way now if someone doesn't come along [as usual] to check up on them."
Julie says the group is her inspiration to keep going. "It is one of the most beautiful things I look forward to... When we go into the walking group it just lifts me up... It's just total enjoyment.

"We laugh and when someone has something serious we share it and take a lot of pressure off their shoulders. It's the best thing psychologically you can do.

"We walk in nice places because Mallacoota is extraordinarily beautiful and the scenery is therapy for the soul...
"We get new people nearly every week and they cannot believe how quickly they fit in."
Regular walking also provides a healthy break from the day-to-day stresses of managing their property and other troubles, adds Julie.
"[The group] has definitely inspired me to be more active. We walk every morning now, my husband and I."
While weeds are still an issue on some walk trails following the bushfires, Julie says the community is working hard to restore the local landscape gradually.
Spring is a fabulous time to visit Mallacoota with wildflowers abundant. The Casuarina Walk down to the Heath Land is one of the Footmobiles' favourites. Members of the group are pictured above on The Narrows, a trail that showcases the waterway connecting the Bottom and Top Lakes of the Mallacoota Inlet in Croajingolong National Park.
We asked Liz McKay why she loves walking with others from her community:
"To share the beauty of the flowers, the birds and the scenery, to laugh and chat… We all feel better for sharing our thoughts every Tuesday morning. Some in the group say it is the best event of the week. For some it is the only thing that keeps them going."
Follow the group's Facebook page. Visitors are welcome on walks.