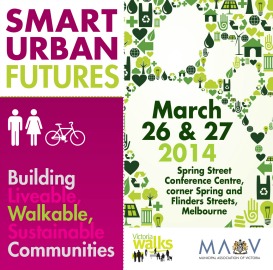 On 26 and 27 March 2014, Victoria Walks and the Municipal Association of Victoria (MAV) hosted the conference Smart Urban Futures: Building Liveable, Walkable, Sustainable Communities.
Two hundred people packed the Spring Street Conference Centre to hear a great range of national and international speakers explore themes including:
Cities for everyone - mobility for seniors, children and disadvantaged communities
The central role of walkability in creating liveable cities
Addressing multiple policy issues with simple solutions.
See the MAV webpage for copies of the presentations (to avoid confusion with this year's conference, we have disabled access to the 2014 program).
For information on the upcoming conference, see Smart Urban Futures 2017.