Northcote Travel Survey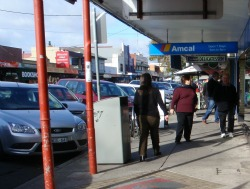 In 2008, the City of Darebin conducted a survey of 736 visitors and 133 businesses in the Northcote shopping precinct to gain an understanding of travel and shopping behaviours and assess the potential impact of a reduction in parking on High Street.
The Northcote precinct encompasses some distinct components - a traditional shopping strip on High Street; Northcote Central, a shopping mall within the High Street strip; and Northcote Plaza, a car-oriented mall on the edge of the precinct.
The key findings included:
High Street Visitors were most likely to walk (36%), or catch public transport (22%) to travel to Northcote while at Northcote Plaza and Northcote Central they were most likely to drive (51%).

Business respondents in High Street overestimated the proportion of people who drove (56% compared to an actual 33% on High Street and 44% in the broader precinct) and dramatically underestimated walking (17% vs actual 36% and 30%).

Respondents rated cleaning and maintenance (8.17), ease of pedestrian access (8.14), and improving pedestrian safety (8.14) as the most important aspects of the Northcote shopping precinct.
Business respondents placed a measurably greater level of importance on the availability of parking than the visitors (8.23 compared to 7.11), while placing a lower level of importance on street trees (6.28 compared to 7.23), and public art (4.62 compared to 5.98).
31% of shoppers in the walking and public transport oriented High Street said they visited daily, compared to just 14% for the shopping malls.
People who worked in High Street were much more likely to drive to it than their customers (60% vs 33%) and much less likely to walk (19% vs 36%).
Fairfield and Reservoir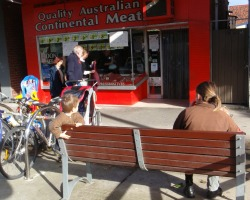 Darebin City Council has also undertaken travel surveys for other centres in their area. While these studies have not included surveys of business perceptions of how customers travel, they tend to confirm that wallking is a more important mode of travel to shopping than some might expect.
In 2007 Darebin City Council surveyed 100 shoppers at Fairfield Village, a middle suburban centre in Melbourne. Amongst other things, they found that walking (32%) was the most common form of travel to the centre, followed by car (27%) and train (21%). They also surveyed local residents and found 69% said they usually travelled to the shops by walking. Of those who walked to the centre, 65% listed convenience as the reason for their choice.
Darebin City Council also conducted intercept surveys at Reservoir shopping centre - further from the CBD - in 2010. The number of drivers was higher, but still less than half of those present (42%), while 28% walked.